Print Friendly Version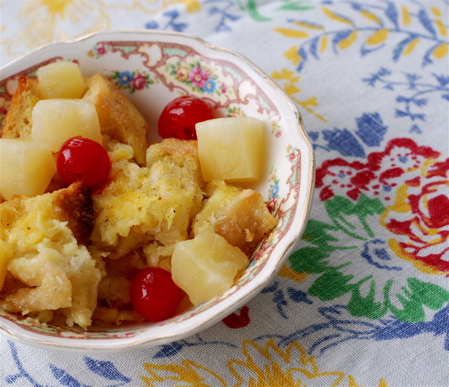 ~ country pineapple bake ~
I'm still catching up on trying to post all of my Easter recipes from this year. This pineapple bake is truly amazing with brown sugar-glazed ham, cheesy fan potatoes, and four seasons fruit salad.
1/2 cup butter, softened
2 cups brown sugar
8 eggs
2 (20 ounce) cans crushed pineapple, drained very well
1/4 cup freshly squeezed lemon juice
10 slices day-old white bread, cubed
maraschino cherries and pineapple chunks for garnish
In a mixing bowl, cream butter and brown sugar. Add the eggs, one at a time, beating well after each addition. Stir in pineapple and lemon juice. Fold in the bread cubes. Pour into a buttered 13-in. x 9-in. x 2-in. baking dish. Bake, uncovered, at 325 degrees F for 35-40 minutes or until set. Serve with ham and garnish with the cherries and pineapple chunks.
Enjoy!
~Melissa
You may enjoy these related posts: