Print Friendly Version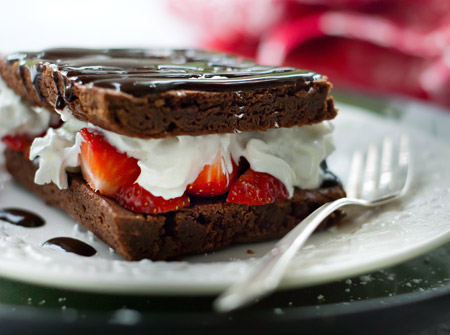 ~ strawberries & cream brownies ~
Have you ever had one of those days when you felt like you were walking within a dream? Today was that sort of day for me. I feel excited and blessed and happy and a little nervous about this new adventure I'm on. But it's that good kind of nervous when you just know the adrenaline that is making your heart skip a beat is trying to be your friend.
To calm my jitters I baked. A sure fire way to relieve stress, in my opinion. And chocolate anything is a girl's best friend, right? So, I made my favorite recipe for brownies. Super yummy and chocolaty. The chocolate scented ribbons streaming from the oven actually whispered to me…"you can do this…." I'm not kidding. Magic chocolate.
I am not one to argue with the chocolate.
for the best brownies on the planet, you'll need:
1/2 cup unsalted butter
1 cup sugar
1 and 1/2 teaspoons pure vanilla extract
2 large eggs
1/2 cup all-purpose flour
1/3 cup good quality unsweetened Dutch processed cocoa powder
1 teaspoon salt
Heat oven to 350 degrees F. Generously butter a 9 inch square cake pan. Combine 1/2 cup butter,  sugar, vanilla, and eggs in bowl. Mix well. In a separate bowl combine flour, cocoa and salt. Mix wet and dry ingredients together until well blended. Spread evenly into buttered cake pan. Bake for 25 minutes, or until the edges of the brownies just start to pull away from the sides of the pan. It's okay if they're still a little soft in the middle. They'll firm up as they cool. Cool completely on a wire rack. Cut into squares and make sandwiches with whipped cream and strawberries in the middle. Top with ganache or your favorite chocolate sauce or syrup.
for ganache: Combine 1 cup bittersweet chocolate (chopped or in chip form,) 1/2 cup heavy cream, and  3 Tablespoons butter in a small saucepan. Cook on low until just melted. Add Grand Marnier or other liqueur if desired. Remove from heat and immediately drizzle over brownie sammies.
Enjoy!
~Melissa
You may enjoy these related posts: