Print Friendly Version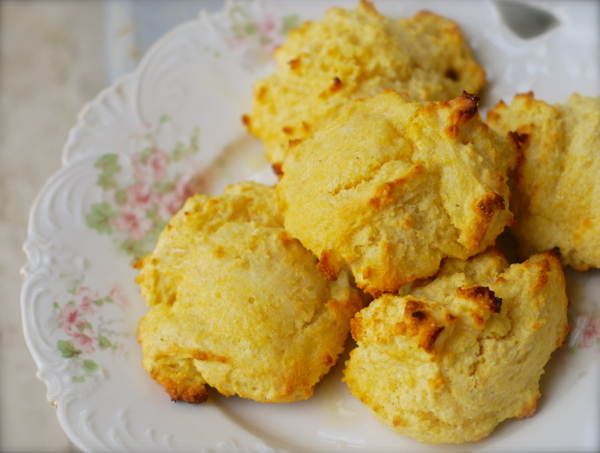 Here's a delicious, super simple recipe for cornbread biscuits that go wonderfully with chili, ham, soup, salad, or black eyed peas! The recipe only calls for 4 ingredients, and it takes less that 30 minutes to prepare and bake the biscuits.
PS… They're also delicious as a breakfast treat. Split them while they're hot and enjoy with butter and your favorite jam, marmalade, maple syrup, or honey.
~ preheat oven to 400 degrees F. ~
2 cups self-rising flour
1/2 cup cornmeal
2/3 cup cold, unsalted butter (cut into chunks)
1 and 1/4 cup buttermilk
Line a large baking sheet with cooking parchment.
In a big bowl, combine the flour and cornmeal. Cut in butter using a pastry blender until coarse, uniform crumbs form. Add 1 cup of the buttermilk. Stir until a soft dough forms. Add the rest of the buttermilk, a Tablespoon at a time, if needed.
Drop biscuits onto prepared pan, 1 inch apart, using approximately 3 Tablespoons of batter per biscuit. Bake 12 to 14 minutes, or until golden brown and set.
Enjoy!
~Melissa
You may enjoy these related posts: