Print Friendly Version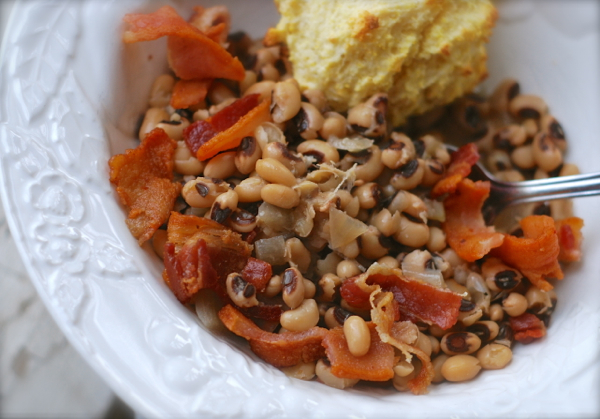 What could be more satisfying than a bowl of black eyed peas, with bacon and buttermilk cornbread biscuits? Not many meals come to mind. Black eyed peas are so easy to prepare in your slow cooker, and it's the perfect appliance for making beans. They come out perfect every time.
This makes a big batch for a crowd (approximately 12 to 16 people). Feel free to cut the recipe in half for a smaller group of people (6 to 8.)
1 lb. bacon, chopped and divided
1 large yellow onion, chopped
3 to 4 large cloves garlic, minced
4 cups black eyed peas, washed and sorted
8 cups chicken stock
1 (15 oz.) can petite diced tomatoes, undrained
1 Tablespoon dry oregano
1 teaspoon freshly ground black pepper
1 teaspoon liquid smoke OR 2 teaspoons smoked paprika
Fry bacon until crispy. Remove from drippings and set aside. Fry onion in drippings until tender, translucent, ans beginning to brown. Add garlic. Cook an additional 30 seconds. Transfer to a 7 to 8 quart slow cooker along with half of the bacon. Stir in the black eyed peas, stock, seasonings, and liquid smoke. Cover and cook on the LOW setting for approximately 8 hours, or until peas are tender. Season to taste with salt, pepper, and hot sauce. Garnish each serving with some of the reserved, crumbled bacon pieces.
This is awesome with cornbread, biscuits, or cornbread biscuits!
Enjoy!
~Melissa
You may enjoy these related posts: