Print Friendly Version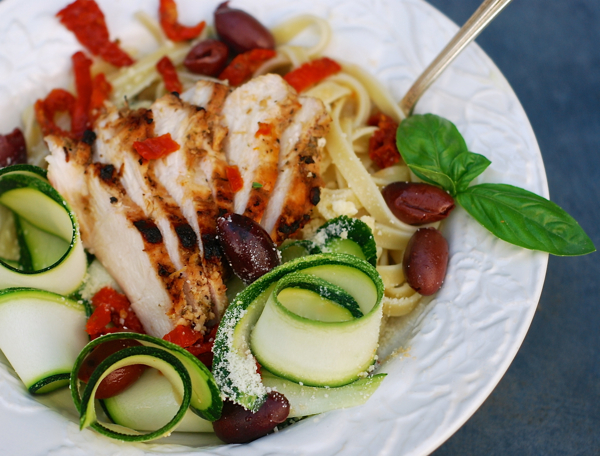 This festive dish celebrates the fresh flavors of summer. Feel free to use zucchini ribbons in place of all the pasta, or vice versa, if you wish. I like this hot or cold. It tastes wonderful either way!
for 4 servings:
2 cups fettuccine pasta cooked until al dente
2 small unpeeled zucchinis "ribboned" using a veggie peeler
4 small boneless, skinless chicken breasts, grilled and cut into strips
1 cup sun dried tomatoes in oil, drained and chopped
1 cup pitted kalamata olives, drained
1 cup artichoke hearts, drained and quartered (optional)
2 cups chicken stock, warmed
1/2 cup dry white wine
1/2 cup extra virgin olive oil
4 large cloves garlic, minced (or oven roasted, for a more mellow flavor)
1 cup (or more) freshly grated Parmesan cheese
sea salt, to taste
freshly ground black pepper, to taste
fresh basil sprigs for garnish
Drain pasta and divide between 4 pasta bowls. "Ribbon" the zucchini and place it alongside the pasta in the bowls.
Combine: the stock, wine, olive oil and garlic in a medium mixing bowl. Pour equal amounts over pasta and zucchini in bowls and toss to coat. Sprinkle some Parmesan cheese over.
Divide: chicken, sun dried tomatoes, olives, artichoke hearts evenly among the bowls. Garnish with basil.
Allow each person to salt and pepper their dish to taste. Place a bowl of extra Parmesan cheese with a little spoon on the dinner table so everyone can add more if they like.
Enjoy!
~Melissa
You may enjoy these related posts: