Print Friendly Version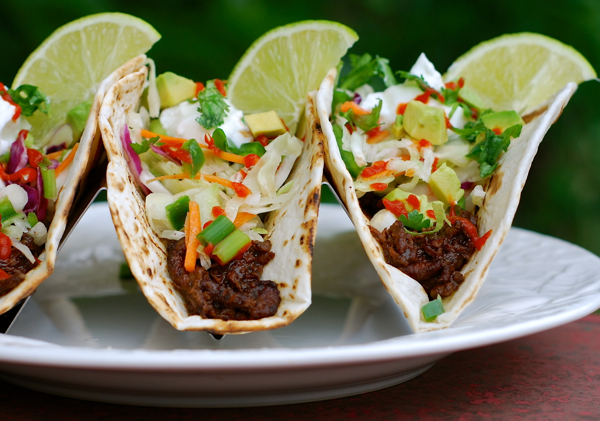 Time to do a little dance, because I have another UH-MAZING taco recipe for you. These are unlike any tacos I have ever had the pleasure of enjoying before. The meat reminds me of Mexican Mole (pronounced MO-leh.) It's rich and deep and, yes, sort of chocolatey. But not chocolatey in a sweet, "desserty" way, chocolatey in a sultry, spicy way.
I'm making myself hungry describing these and I just ate.
Feel free to use corn or flour tortillas for your carne asada. I almost always use corn, and decided to change it up a bit this time.
for the carne asada:
3 lb. carne picada beef (or flank steak cut into thin strips)
1/3 cup all purpose flour
1/4 cup vegetable or canola oil
3 Tablespoons Worcestershire sauce
2 Tablespoons Ancho chili powder
1 Tablespoon unsweetened cocoa powder
1/2 teaspoon sea salt
1 teaspoon cinnamon
1/4 teaspoon cayenne pepper
Roll meat in flour to coat. Shake off excess flour.
Heat oil in a large, heavy skillet until shimmering. Brown meat in hot oil until browned a bit, but not cooked all the way through. (3 to 5 minutes.) You may have to brown the meat in batches so you don't crowd the pan.
Place meat in bottom of 3 to 8 quart slow cooker. Once all meat is browned, deglaze skillet with 3 Tablespoons Worcestershire sauce. Scrape brown bits from bottom of pan and add these drippings to the slow cooker along with the meat. Toss with chili powder, cocoa, sea salt, cinnamon and cayenne so meat is coated evenly. Cover and cook on the LOW setting for 5 hours or the HIGH setting for 2 to 3 hours, or just until meat is very tender and cooked all the way through. Stir mixture once or twice during cooking process, especially if you're cooking it on high.
Serve with:
warmed or grilled tortillas (flour or corn)
simple cabbage coleslaw (I used vinegar, sugar, salt and pepper, to taste)
 a little shredded carrot
jalapeno peppers, chopped fine
sour cream
fresh lime wedges
fresh pico de gallo
perfectly ripe avocado, diced
 hot sauce
crumbled, mild, goat cheese
Enjoy!
~Melissa
You may enjoy these related posts: