Print Friendly Version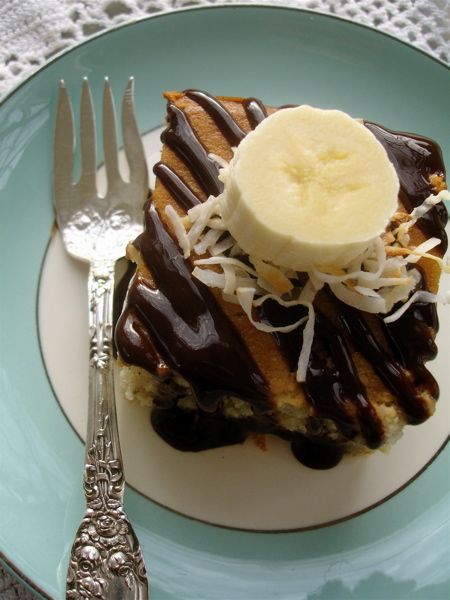 ~ banana ricotta cake with malibu chocolate drizzle ~
We had a bunch of ripe bananas on the counter and ricotta left over from the Christmas gnocchi. I decided to get creative in the kitchen and make some banana ricotta magic. What I came up with is the moistest most flavorful banana cake I've ever tasted. Jeff and Gracie loved it, and Gracie is enjoying a piece with a glass of milk for her after-school snack as I write this. I made a simple Malibu rum chocolate drizzle instead of frosting, and garnished the pretty slices with a sprinkle of toasted coconut and a banana slice.
for the cake:
1/2 cup unsalted butter, softened
1/4 cup olive oil
2 and 1/8 cup sugar
3 large eggs
2 teaspoons pure vanilla extract
1 and 1/2 teaspoons baking soda
1 teaspoon salt
1 cup ricotta cheese
1/2 cup buttermilk
2 teaspoons lemon juice
5 mashed, very ripe bananas
2 Tablespoons Malibu rum
3 cups all-purpose flour
In the bowl of a table top mixer, combine the softened butter, oil, eggs, vanilla, soda, salt, ricotta, buttermilk, lemon juice, bananas and Malibu rum. Using the whisk attachment, mix on medium speed until just combined. Add the flour, one cup at a time and mixing in between each addition until the dough is combined, and still slightly lumpy. Don't overmix.
Pour into a buttered, 9 x 13 glass cake pan. Bake for an hour at 350, or until the cake is set and pops back when you gently press the middle with your index finger. Cool completely in the pan. Cut into squares and garnish with Malibu rum chocolate drizzle, toasted coconut and banana slices. Cover cake and refrigerate.
for Malibu chocolate drizzle:
In a small bowl, combine 1/2 cup Hershey's chocolate syrup and 3 Tablespoons Malibu rum. Using a spoon, drizzle over individual cake slices just prior to serving.
Enjoy!
~Melissa
You may enjoy these related posts: