Print Friendly Version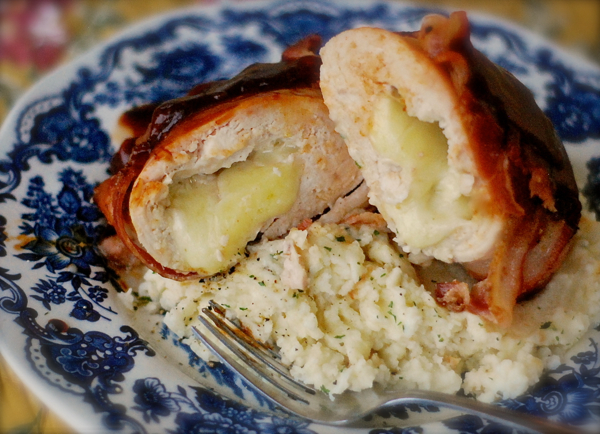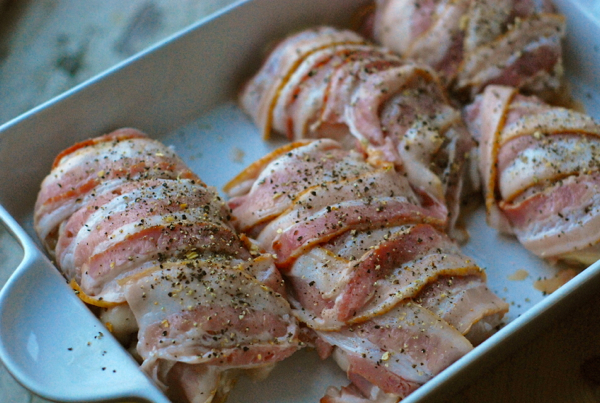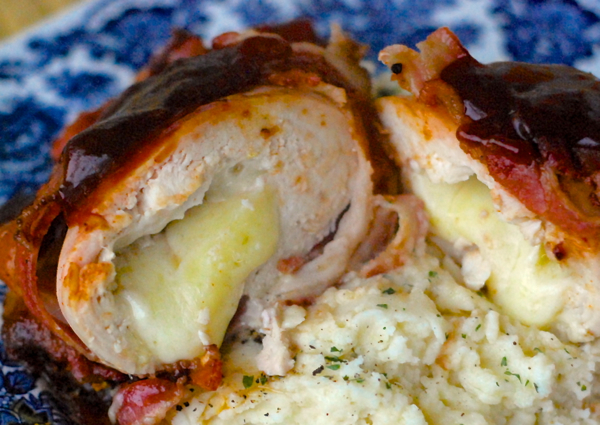 Can I just tell you how GOOD this chicken turned out? It was a spontaneous recipe that was the result of pretty much just throwing together a dish consisting of what we already had in the refrigerator. Chicken, Ellsworth Creamery cheese curds, bacon, barbecue sauce, and mashed potatoes!
Oh myyyyyy. Seriously one of the best chicken dishes I've ever made! It goes together fast and is it ever delicious! Definitely fancy enough  for company if you're having people over.
~ preheat oven to 350 degrees F. ~
4 to 5 large boneless skinless chicken breasts, pounded to about 1/4 inch thickness
1 cup cheese curds (or your favorite melting cheese)
1 lb. bacon (we like maple smoked)
your favorite BBQ sauce
approximately 4 cups of mashed potatoes
Make sure chicken is either fresh or completely thawed before pounding flat. I just place the chicken breasts in a big ziploc bag, remove as much air as possible, and then pound them to 1/4 inch thickness with the side of a rolling pin. Be careful as you flatten the meat so you don't create holes in it. You want to be able to seal the cheese inside so it doesn't ooze out as it bakes.
Once all chicken pieces are flat, place approximately 3 to 4 Tablespoons of cheese curds in the center of each. Fold the chicken in on the sides (around the cheese) and then roll up. While holding the rolled up chicken, before placing each piece seam-side-down in a baking pan, wrap 2 to 3 pieces of bacon around each piece. Once all pieces are in the pan, bake in preheated oven for 35 to 45 minutes, or just until chicken is completely cooked and cheese has melted. You can place the finished chicken under a broiler for a minute or two to crisp up the bacon if you like, but this step isn't necessary.
Place chicken breasts on plates alongside (or on top of) a pile of hot, buttered, mashed potatoes. Spoon warmed BBQ sauce over the top. Season to taste with freshly ground pepper and a little parsley.
Enjoy!
~Melissa
You may enjoy these related posts: