Print Friendly Version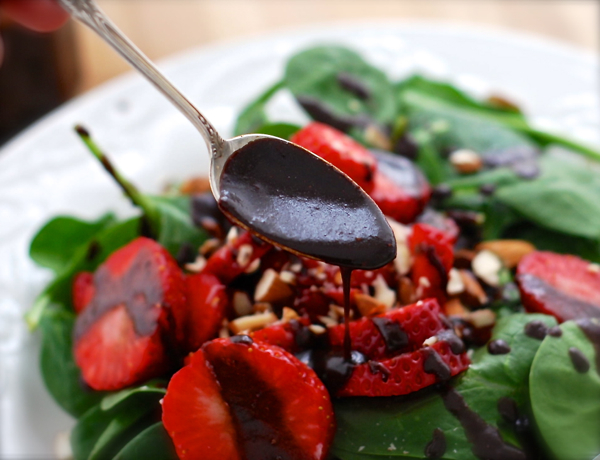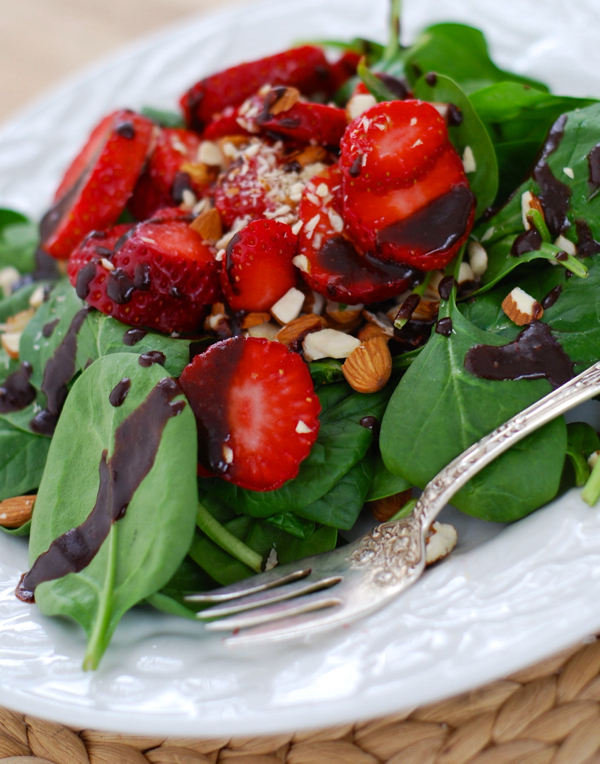 Are you ready for another Valentine treat? This one is especially delicious as well as colorful and healthy. It's makes a wonderful beginning to a candle lit dinner and sets the stage for romance. The vinaigrette is slightly spicy and surprisingly the perfect accompaniment to the other flavors and textures in this simple, elegant salad.
plate ingredients in the following order on two salad plates:
4 cups fresh baby spinach
2/3 cup fresh strawberry slices
1/4 cup chopped almonds (toasted, if you like)
a drizzle of chocolate vinaigrette (recipe below)
for the chocolate vinaigrette:
2 oz. semi sweet or bitter sweet chocolate chopped
5 Tablespoons balsamic vinegar
3 Tablespoons olive oil
1 Tablespoon honey
1/2 teaspoon sea salt
1/4 teaspoon freshly ground black pepper
1/4 teaspoon cinnamon
1/2 teaspoon red pepper flakes OR 1/4 teaspoon cayenne pepper
Place the chopped chocolate in a medium size, microwave-safe bowl. Heat until just melted, checking every 10 seconds to insure you don't burn the chocolate. Once melted, remove from microwave and whisk in the vinegar, olive oil, honey, salt, black pepper, cinnamon and red pepper. Whisk until smooth and drizzle over salad.
Enjoy!
~Melissa
You may enjoy these related posts: