Print Friendly Version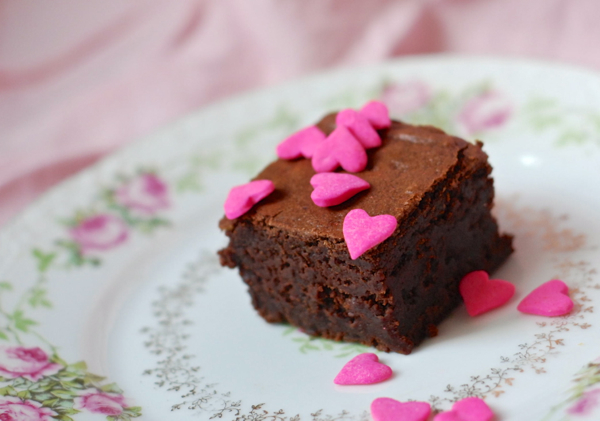 Grace made some of the best brownies I've ever had. They're perfectly fudgy without being too wet or gooey like other fudge brownies I've encountered. Enjoy with a tall glass of milk or a scoop of ice cream. Yummy!
~ preheat oven to 350 degrees F. ~
1 cup semisweet chocolate chips (Grace used "Enjoy Life")
1 and 1/2 sticks unsalted butter, cut into little chunks
4 oz. unsweetened, good quality chocolate (Grace used Ghirardelli)
1 and 1/2 cups sugar
4 large eggs
1 teaspoon vanilla
3/4 cup unbleached all-purpose flour
1/4 teaspoon salt
Generously oil an 8×8, glass baking dish.
In a large, microwave-safe bowl, mix the chocolate chips, butter and unsweetened chocolate. Microwave for 30 seconds. Stir. Continue to heat the chocolate in 15 second increments, stirring between each, just until the chocolate is melted and smooth. Be careful not to burn your chocolate. Remove bowl from microwave and set it aside while you mix up your eggs and sugar.
In the bowl of a counter top mixer, beat the eggs and sugar on medium-high speed (for approximately 3 minutes) using the paddle attachment. Beat in vanilla and chocolate mixture. Using a wooden spoon, gently stir in the flour and salt just until combined. Don't over mix.
Pour the brownie batter into the prepared pan. Bake at 350 degrees F. until a toothpick comes out with only a few crumbs on it when inserted into the center of the pan of brownies (approximately 35 minutes.) Don't over bake. Cool to room temperature, cut and serve. Makes approximately 12 brownies.
Enjoy!
~ Grace and Melissa
You may enjoy these related posts: