Print Friendly Version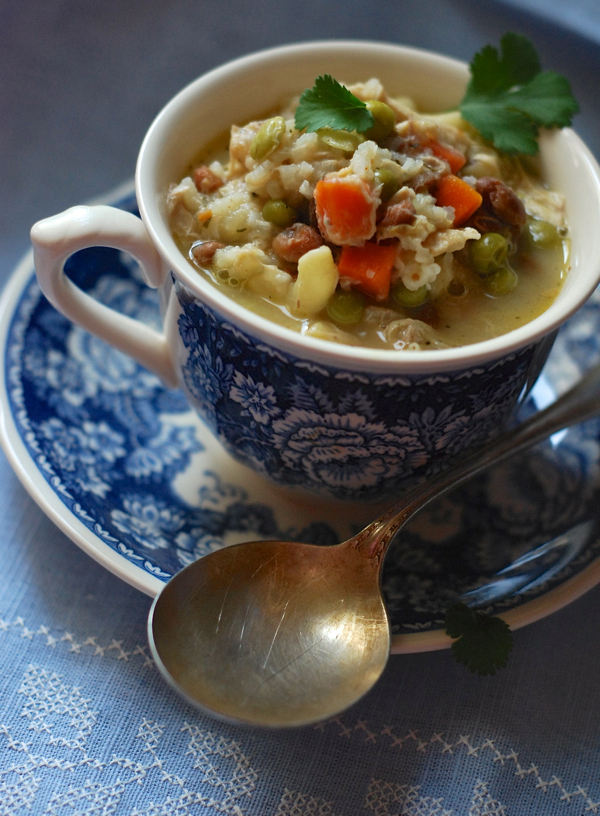 "I love to make soup and can say with pride that I am famous for it. This is a real winter standby if you live in a cold climate. I make a large iron potful at least once a week, either on the wood stove or over the fire, which burns all winter." ~Tasha Tudor (The Tasha Tudor Cookbook)
Tasha Tudor is a girl after my own heart. I love her sweet books and have acquired a few over the years. Just recently I was browsing the aisles of a local thrift shop and happened upon her famous cookbook. What a thrill to find it in perfect condition for $3.50! I went home, made a pot of tea and slowly paged through it, savoring every illustration and recipe. Being the author of two watercolor illustrated books myself, I feel she is a true kindred spirit. Her pretty pictures are like a song, serenading the reader from each page.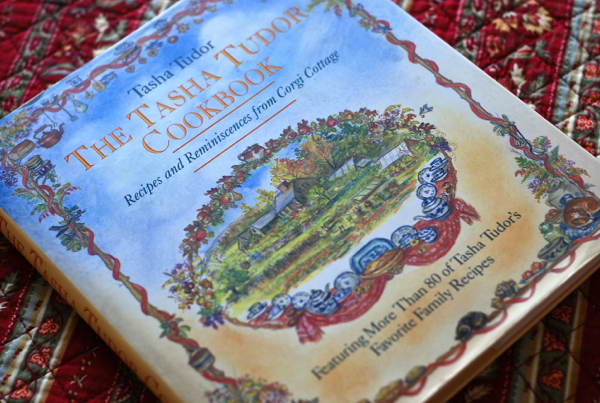 The first recipe I decided to make was her Cogri Cottage Soup. I love the unique combination of cozy ingredients in this. She suggests using a farm-fresh chicken, but a free range chicken from your local butcher will do nicely if you don't happen to have chickens in your back yard. I added the chicken meat back to the soup, but Tasha's original recipe doesn't say to do so… See how you like it.
for the stock:
1 whole chicken, cooked completely, meat removed
2 large onions, quartered
2 large carrots, cut into large chunks
2 celery stalks, cut into large chunks
6 cloves of garlic, minced
5 large bay leaves
1 Tablespoon fresh parsley, chopped
1 to 2 teaspoons fresh thyme leaves
1 teaspoon fresh, sweet basil, chopped
1/2 teaspoon fresh tarragon, chopped
salt and pepper to taste
Cook chicken. Remove meat. Place meat in refrigerator. Place the chicken carcass and all the ingredients for the stock in a large stock pot. Cover with water. Bring to a boil and gently simmer all day long (6 to 7 hours.) At the end of this cooking time, remove the chicken carcass and strain the broth. Discard carrots, celery and onion chunks.
for the soup:
1 cup frozen baby lima beans, cooked
2 cups frozen peas and carrots, cooked
2 cups cooked white rice
2 cups cooked elbow macaroni
4 medium-size potatoes, mashed with cream cheese and butter
1 (28 oz. can) B&M Original Baked Beans with salt pork removed
2 Knorr's chicken bouillon cubes
salt and pepper to taste
2 teaspoons each fresh parsley, oregano, tarragon and sage
Cook the frozen veggies, rice and pasta according to the directions on the individual packages. Add the cooked veggies, rice and pasta to the stock in the stock pot. Add the mashed potatoes and baked beans. Crumble in the bouillon cubes. Simmer for a bit, being careful to stir frequently so the soup doesn't burn to the bottom of the stock pot. Add some or all of the chicken back to the soup (if you want a little extra protein). Taste. Add salt, pepper and small amounts of the fresh herbs as you desire, taking care not to add too much tarragon. Simmer until heated through. I thought this was good with a little pat of butter melted over the top.
Enjoy!
~Melissa
You may enjoy these related posts: