Print Friendly Version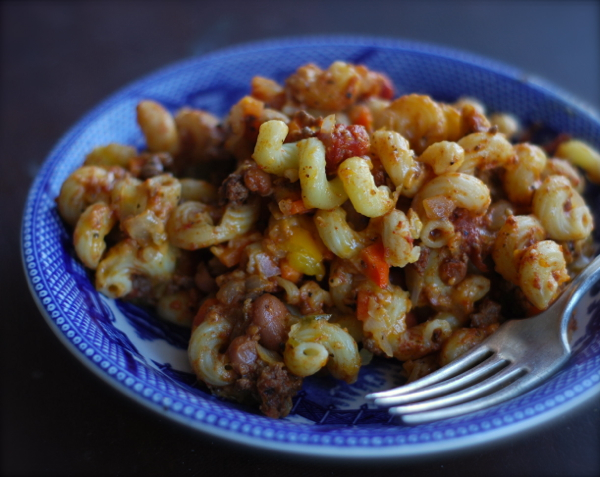 My days have been so full I've barely had time to write to all of you. I'll share a more "newsy" entry on Sunday for my Scenes post, I promise. In the mean time, I'll just keep on sharing recipes 😉
This is simple, satisfying comfort food for the chilly winter days we've been experiencing here in the Midwest. Just serve it with a simple tossed salad and garlic bread for a complete meal.
~preheat oven to 350 degrees F. ~
serves 8-10
1 lb. lean ground beef, bison or turkey
1 lb. curly pasta (cellentani, fusilli or rotini)
1 (15 oz.) can pinto beans (or your favorite) drained and rinsed well
1 (28 oz.) can whole tomatoes in sauce (undrained)
1 (15 oz.) can petite diced tomatoes, (undrained)
1 cup dry red or white wine
3 Tablespoons chili powder
1 Tablespoon smoked paprika
1 Tablespoon dry Italian seasoning
1 teaspoon cumin
2 teaspoons freshly ground black pepper
1 teaspoon Lawry's Seasoned Salt
3 Tablespoons olive oil
1 large onion, chopped
1/2 green bell pepper, chopped
1/2 yellow bell pepper, chopped
2 large carrots, chopped into little cubes
2 large cloves garlic, minced
10 oz. block of sharp cheddar cheese, shredded
about 1 cup of shredded Parmesan cheese
Lightly butter a 9 x 13 glass baking dish.
Brown the ground meat. Remove from heat, cover and set aside.
Cook pasta according to package directions for "al dente" doneness. Toss with a little olive oil. Cover and set aside.
In a heavy bottomed stock pot or Dutch oven, combine: beans, whole tomatoes, diced tomatoes, wine and seasonings. Bring to a boil, reduce heat and gently simmer until the chili is reduced and thickened a bit. Cover and remove from heat. Add browned meat.
In a large, heavy bottomed skillet, heat the 3 Tablespoons olive oil. Once hot, add the chopped onion, chopped bell pepper and chopped carrots. Saute until veggies are tender and translucent. Add the garlic and cook an additional minute, just until garlic is fragrant.
Place a thin layer of the chili in the bottom of the prepared baking dish. Top with a layer of noodles, another layer of chili, a layer of veggies, a layer of cheddar and a sprinkling of Parmesan. Repeat two more times with these layers, ending with the cheeses. Cover with foil and bake for 45 minutes. Remove the foil and bake an additional 10 minutes, or until golden brown and bubbly.
This can be made ahead and frozen. Defrost on the counter while you are busy during the day and then place it in the oven about an hour before dinner.
Enjoy!
~Melissa
You may enjoy these related posts: