Print Friendly Version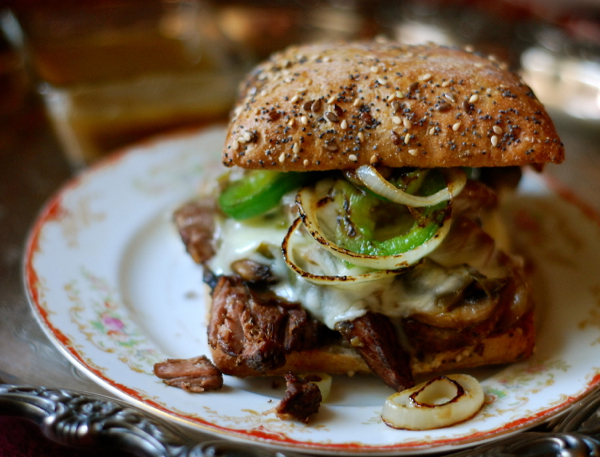 We've been using the slow cooker a lot this winter! I love developing new recipes for the Crock Pot. It makes cooking comfort food both fun and easy. Here's my latest creation…
You can pretty much use any steak or roast for this recipe. The slow cooking tenderizes even the least expensive cuts of meat and turns them into ambrosia. I think you're going to love this.
~ serves approximately 8 to 10 people ~
3 to 4 lb. round steak (or rump roast) cut into strips, extra fat removed, blotted dry
2 teaspoons freshly ground black pepper
1 cup all purpose flour
1 teaspoon sea salt
a little butter or olive oil for browning meat and veggies
1 large onion, peeled and sliced
2 large, sweet green bell peppers, seeds and stems removed, cut into strips
1 lb. baby bella mushrooms, washed, patted dry and sliced
3 large cloves garlic, minced
32 oz. low sodium or no sodium beef stock or broth
8 to 10 french rolls or ciabatta rolls (I used whole grain), split horizontally
16 to 20 slices Provolone cheese
Cut meat into strips. Mix the pepper, flour and salt in a large, shallow bowl. Heat some butter or oil in a heavy skillet. Dredge prepared meat in the flour mixture, coating all sides. Brown meat for approximately 2 minutes per side (just until seared, not cooked all the way through.)
Place seared meat in slow cooker. Add a little more butter or oil to the skillet and brown the onions, peppers and mushrooms in small batches, just until tender (not mushy.) Don't crowd the pan or the veggies won't brown. Add all browned veggies to the slow cooker, along with the minced garlic and beef stock/broth. Cover slow cooker and cook on LOW setting for 5 to 7 hours or just until meat is very tender and starting to fall apart when tested with a fork.
~ Putting your sandwiches together ~

~ preheat oven to 400 degrees F. ~
Place the split rolls side by side on a baking sheet so the insides of the rolls are facing up. Lightly butter the rolls. Pile some of the meat and veggies on the bottom halves of the rolls, being careful to strain as much of the liquid off as possible so your sandwiches don't get soggy. Place 2 slices of Provolone cheese on top of the meat/vegetable mixture. Place in oven and bake for 5 minutes or until the cheese is melted and the rolls are hot and toasted.
Plate sandwiches, and top with your favorite accompaniments. We like Dijon mustard and horseradish mayonnaise. Put some of the broth from the slow cooker in little cups so you can dip your sandwiches if you wish.
Note: I browned some extra peppers and onion just before serving these sandwiches. The lightly seared, more brilliantly colored vegetables make this sandwich look pretty as well as taste amazing. This step is optional.
Enjoy!
~Melissa
You may enjoy these related posts: