Print Friendly Version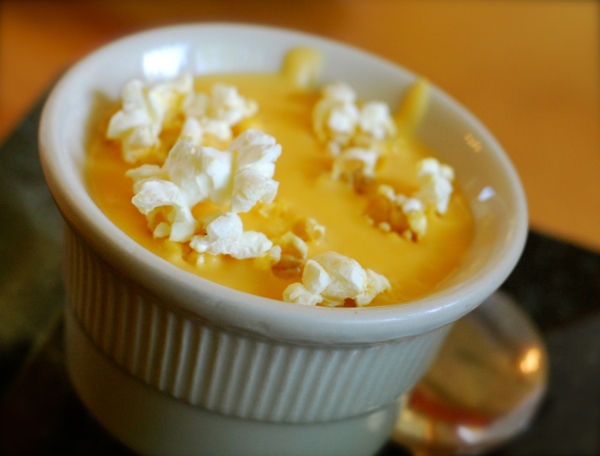 It's that time of year again! Soup and bread season! My favorite. This is a rendition of my tried and true beer cheese soup, with some significant changes that make it more "fallish." The flavors of apple come from apple chunks added along with the veggies, and a splash of real, orchard apple cider.
9 Tablespoons butter, divided
1/2 cup all purpose flour
2 cups onion, finely diced
2 cups celery, finely diced
2 cups carrot, finely diced
1 cup potato, peeled and finely diced
1 cup sweet cooking apple, peeled and finely diced
5 cups chicken stock or broth (homemade is best)
1 cup tart, orchard apple cider
24 oz. dark beer
2 lb. American cheese (I use Bongard's), coarsely shredded
1/4 teaspoon dry mustard powder
1/4 teaspoon white pepper
1/8 teaspoon nutmeg
popcorn for garnish (optional)
Melt 8 Tablespoons butter in a large, heavy skillet. Once melted, whisk in the flour, stirring constantly, until fragrant and a light amber color. Remove from heat and set aside.
Melt remaining 1 Tablespoon butter in a large, heavy soup pot. Once hot, add onion, celery, carrot, potato, and apple. Saute for 5 to 6 minutes, or until veggies and apple are tender and translucent. Add stock, cider and beer. Turn heat to medium low and simmer for 20 minutes, or until very hot all the way through. Stir occasionally as the soup simmers. Once hot, whisk in the butter/flour mixture. Once mixed, add the cheese, mustard powder, white pepper, and nutmeg. Turn heat to low and stir frequently until soup is heated through and cheese is completely melted. Remove from heat.
Note: This soup can be thinned with a little whole milk, or thickened with more cheese, if needed.
Ladle into big mugs or bowls, and garnish with popped popcorn, if using.
Enjoy!
~Melissa
You may enjoy these related posts: