Print Friendly Version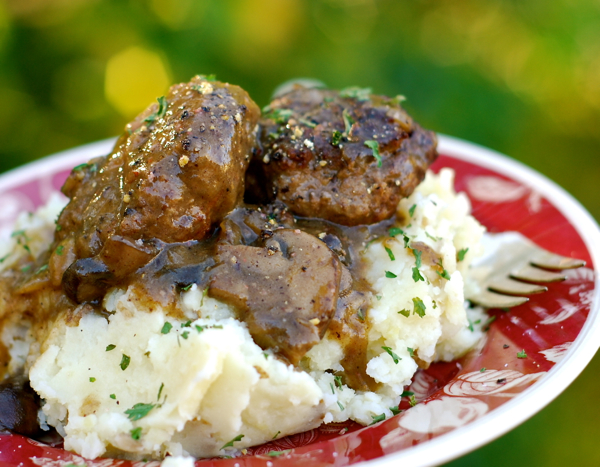 Sometimes you just have to give in to the craving for real, down home, comfort food. This sort of food is almost never "health" food, but I do believe it's good for the soul. Everyone has a favorite comfort food, and I think for me it's either stew and homemade bread or anything swimming in gravy.
My grandma shared this recipe with me years ago, and it's one I make every year when the leaves start turning and the temperature drops. I hope your family loves it as much as we do.
Note ~ Making "mini" steaks instead of big ones helps the meat cook a bit quicker and more evenly. It's also nice to be able to offer a half portion (one "steak") to people who are concerned about portion control.
serves 4 people ~ 2 steaks each:
2 Tablespoons peanut oil or vegetable oil
1 lb. ground chuck
1 large egg, lightly beaten
1/4 cup plain, dry bread crumbs (I use Progresso)
1/2 teaspoon Lawry's seasoned salt, divided
1 teaspoon onion powder
1 teaspoon garlic powder
2 Tablespoons +1 teaspoon Worcestershire sauce, divided
1 large onion, chopped
16 oz. baby bella mushrooms, washed, dried, and sliced
2 Tablespoons butter
2 Tablespoons all purpose flour
1 cup beef stock or broth (homemade is best)
1 Tablespoon cognac or cream sherry
freshly ground black pepper, to taste
In a large mixing bowl, combine beef, egg, bread crumbs, 1/4 teaspoon of the seasoned salt, onion powder, garlic powder, and 1 teaspoon of the Worcestershire sauce. Mix well, using your hands, until all ingredients are evenly distributed. Form into 8 meatballs, and flatten into patties.
Place the peanut oil in a large, heavy skillet over medium heat. Fry patties in hot oil until nicely browned (approximately 4 minutes per side.) Remove patties to a plate and cover with heavy foil to keep warm. Add onions and mushrooms to skillet. Fry until onions are tender and slightly golden, and until the mushrooms have released their juices. Add remaining 2 Tablespoons Worcestershire sauce and butter. Stir to combine. Sprinkle flour over. Cook 2 minutes. Add stock and cognac. Season to taste. Simmer over low heat until gravy thickens. (If you like your gravy very thick, mix 1 Tablespoon cornstarch with 2 Tablespoons cold water and stir this mixture into the gravy as it simmers.) Once thickened to your liking, return patties to gravy. Simmer over low heat for approximately 15 additional minutes, or until patties are cooked through and hot. Sprinkle remaining seasoned salt and the freshly ground black pepper over patties just prior to serving.
Serve over mashed potatoes or egg noodles and top with lots of the mushroom onion gravy. Garnish with fresh or dried parsley.
Enjoy!
~Melissa
You may enjoy these related posts: