Print Friendly Version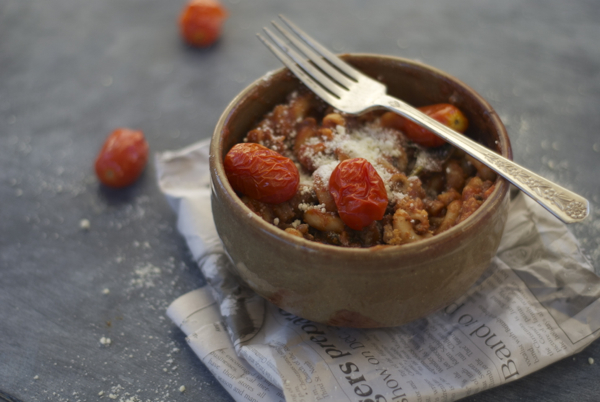 Sipping a glass of Chianti while listening to Dino croon Christmas songs over the little speakers in the kitchen…steam rises from a colander of pasta in the sink… the pungent, seductive scent of oven roasted garlic mingles with that of mushrooms, onions and peppers sauteed in butter… Think you've had goulash? This isn't your Mama's goulash…well, unless your mama is an Italian lady. Hope you love this homey, rustic, comforting dish as much as we do.
1 lb. extra lean ground beef or bison, well browned
1 lb. lean, bulk Italian sausage or ground pork, well browned and drained
2 Tablespoons olive oil
2 Tablespoons butter
1 medium onion, chopped
3 large cloves garlic, minced (or more if oven roasted)
1 green or red bell pepper, chopped
8 oz. sliced baby bella mushrooms
1/2 cup dry red wine
36 oz. spaghetti or marinara sauce
2 handfuls baby spinach
12 oz. elbow macaroni, cooked until just al dente
1 Tablespoon dry Italian seasoning or pizza seasoning
1 Tablespoon fennel
1 teaspoon sea salt
2 teaspoons freshly ground black pepper
1 teaspoon red pepper flakes
1 teaspoon smoked paprika
black or white truffle oil for drizzling
Parmesan cheese for topping
oven roasted cherry or grape tomatoes for garnish
Cook macaroni according to package directions, drain, toss with a little olive oil, cover and set aside. Brown beef and sausage together. Drain and add to macaroni. In the same skillet that you cooked the meat in, saute the onion, mushrooms and bell pepper in the olive oil and butter until the mushrooms reabsorb the juices in the pan. Add the garlic and cook for one minute. Add the wine and continue to cook until the mixture becomes slightly sticky. Add to the macaroni/meat mixture along with the spaghetti sauce, spinach and seasonings. Mix well. Pour into a large casserole pan or a 9 x 13 glass cake pan and bake at 350 degrees F. for 45 minutes or until hot and bubbly. Serve in pasta bowls. Drizzle with a little truffle oil, sprinkle liberally with Parmesan, and garnish with oven roasted grape tomatoes if you wish. Enjoy with a glass of Chianti.
XO,
~Melissa
You may enjoy these related posts: