Print Friendly Version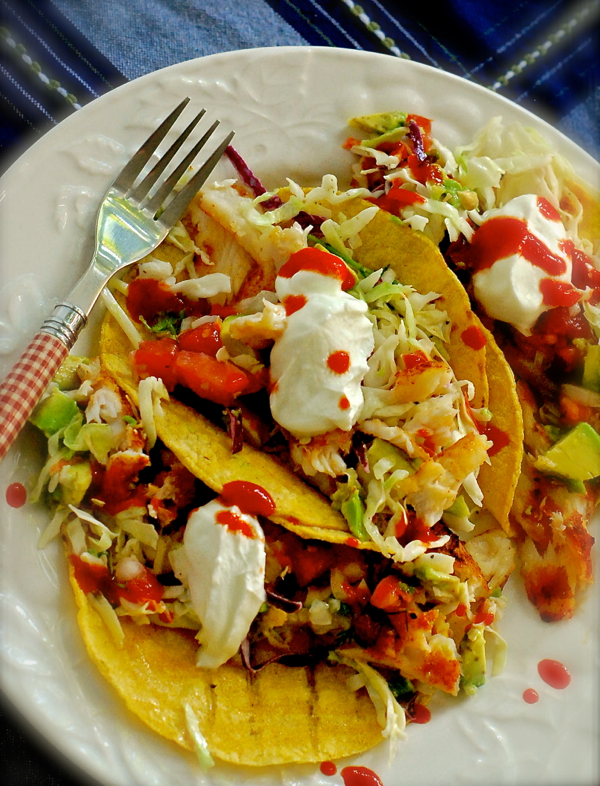 Fish tacos always sound good to me. I could eat them at least 3 days a week and not get tired of them. We decided to kick up our recipe for these grilled fish tacos a notch by making them spicy, and OH MY gosh, did they ever turn out spectacular. We named them "firecracker fish tacos" for their spiciness and for the upcoming 4th of July holiday!
serves approximately 4 people
~ Grill 2 lb. fresh, mild fish (such as cod or haddock) that has been rubbed with a generous amount of chili powder and smoked paprika, and a sprinkle of cayenne pepper and chipotle powder.
~ Grate 8 oz. of pepper jack cheese.
~ Crumble a little mild goat cheese or queso fresco
~ Mix a small bag of coleslaw mix with your favorite sweet coleslaw dressing, 3 chopped green onions, cumin, dill, salt and pepper (to taste)
~ Chop 5 Roma tomatoes and put them in a bowl with 3 minced garlic cloves OR make up a batch of pico de gallo
~ Cut 2 ripe, hass avocados into cubes OR make up a batch of guacamole
~ Stuff warm tortillas (we grilled ours) with cheese, fish, slaw, tomato/garlic mixture, avocado and sour cream or greek yogurt.
~ Squeeze fresh lemon or lime juice over the tacos.
~ Season with plenty of Sriracha hot sauce if you like your tacos extra spicy.
~ Sprinkle with a little sea salt (if desired.)
Enjoy!
~Melissa
You may enjoy these related posts: