Print Friendly Version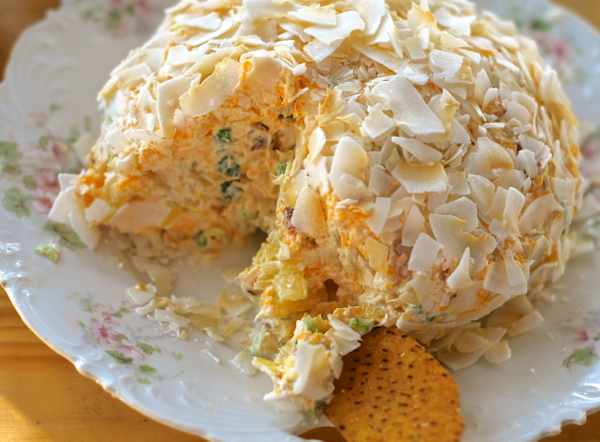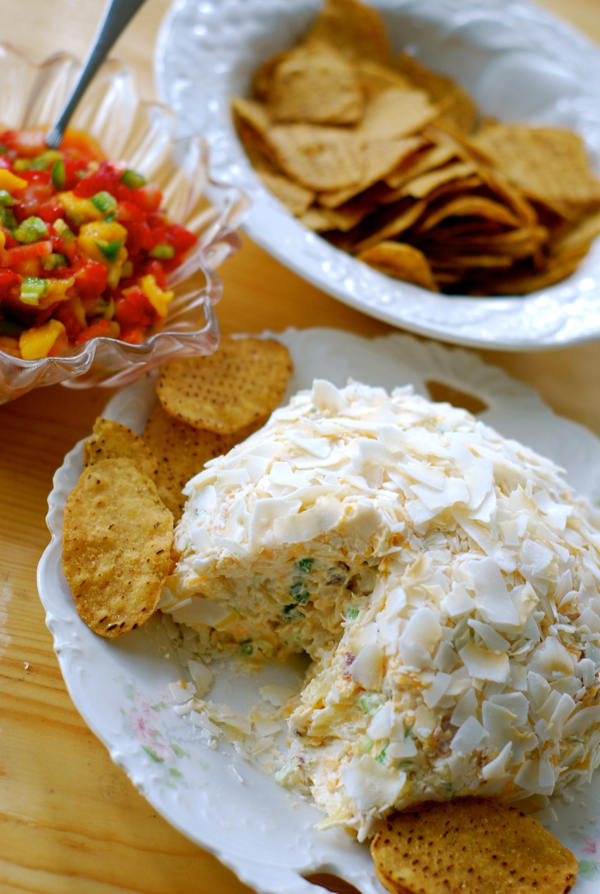 This cheese ball is completely creamy, bacony, pineapply and delicious! If you don't like coconut, you can coat it with chopped Macadamia nuts instead. It's great either way!
We enjoyed our cheese ball with Food Should Taste Good's Sweet Potato Chips. They're slightly sweet and are an awesome vehicle for scooping up the amazing cheese. I made up a batch of my strawberry mango salsa and I suggest you do the same. I included the recipe below. The fresh fruit, sassy jalapeno, and tart citrus are the perfect accompaniment. It's so, so, so, so good! I'm making myself hungry just writing about it!
for the cheese ball:
~ serves 8 to 10 people ~
16 oz. cream cheese (not lite), softened to room temperature
8 oz. sharp cheddar cheese OR Monterey Jack cheese, grated
20 oz crushed pineapple OR pineapple tidbits, drained very well
4 green onions + green tops, sliced thin
1 lb. bacon, fried until very crispy, cooled, and crumbled OR 1/2 cup ham, diced small
1/4 cup finely chopped Macadamia nuts (optional)
1 Tablespoon Worcestershire sauce
approximately 1 cup unsweetened, toasted coconut flakes for coating OR Macadamia nuts
Place the softened cream cheese and grated cheese in a large mixing bowl. Mix until evenly incorporated. Add pineapple, green onions, bacon/ham, Macadamia nuts (if using,) and Worcestershire sauce. Mix until everything is evenly incorporated and well mixed. Form into a ball and place on a pretty serving plate. Coat with the coconut or macadamia nuts by pressing them firmly into the cheese. Place cheese ball in refrigerator for at least an hour prior to serving so it can harden a bit and set.
Serve with chips, crackers, fresh veggies, and a batch of strawberry mango salsa.
for the strawberry mango salsa:
1 large, ripe mango, peeled, pit removed, and cubed
1 large jalapeno pepper, stem removed, chopped
20 fresh strawberries (I use the little organic ones), diced
1 green onion + green top, thin sliced
1/4 cup fresh cilantro, chopped fine
juice of 1/2 large lemon OR 1 small lime
Place all in a small bowl and mix until evenly combined.
So excited for you to try this! Let me know what ya think.
Enjoy!
~Melissa
You may enjoy these related posts: