Print Friendly Version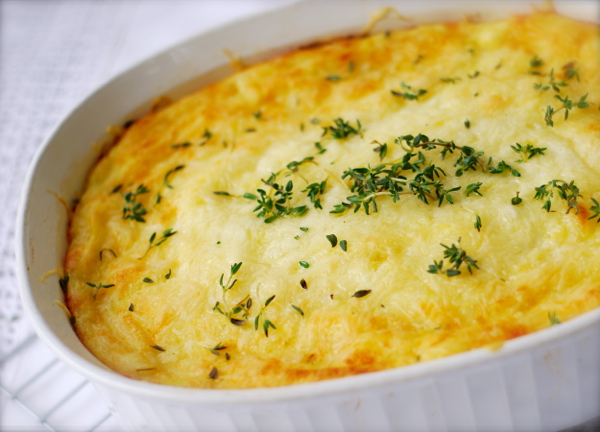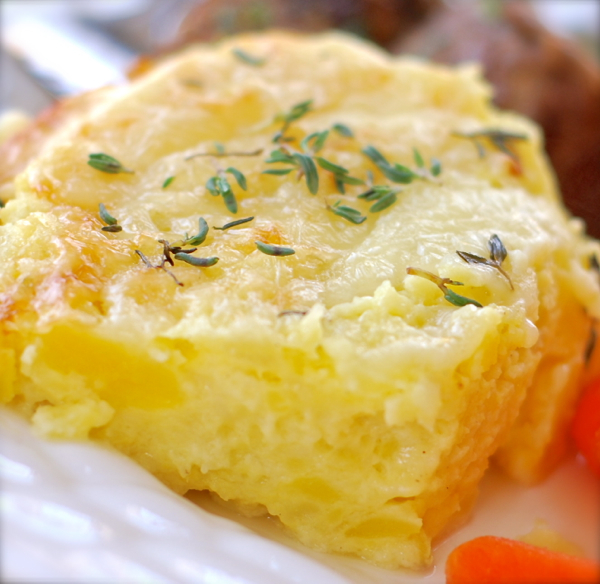 This is one of my go-to potato recipes for Easter and other holidays. It's fluffy, and cheesy, and perfect with ham, turkey, roasted chicken, or grilled steak. There are never any leftovers! I always use 8 oz. of cheese for this, but if you use 6, the casserole will get a bit puffier.
~ preheat oven to 350 degrees F. ~
2 to 3 lb. Yukon Gold potatoes
4 large eggs, separated
1 cup 2% or whole milk
1/2 teaspoon sea salt
1/4 teaspoon white pepper
6 to 8 oz. Monterey Jack cheese, shredded
fresh thyme for garnish
Peel potatoes and cut into uniform, 2 inch chunks. Place in a large saucepan and cover with water. Bring to boil. Reduce heat, cover, and cook for 20 minutes or until potatoes are tender. Drain and mash until smooth.
In a small bowl, whisk the egg yolks with the milk, salt and pepper. Stir into mashed potatoes. Fold in 3/4 of the cheese.
Using an electric mixer, or a counter top mixer with the whisk attachment, beat the egg whites until stiff peaks form. Gently fold whites into potato mixture. Transfer to a buttered 1 and 1/2 to 2 quart casserole dish. Sprinkle top with remaining cheese. Bake in preheated oven for 40 to 45 minutes, or until puffed, completely set and golden on top. Plate and garnish with fresh thyme leaves.
Enjoy!
~Melissa
You may enjoy these related posts: