Print Friendly Version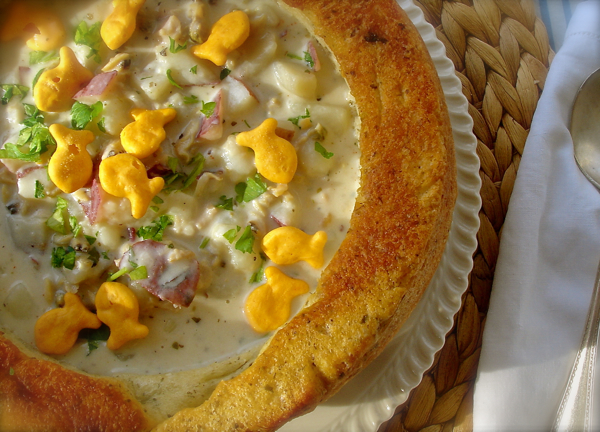 ~new england clam chowder ~
"One whiff of a savory aromatic soup and appetites come to attention.  The steaming fragrance of a tempting soup is a prelude to the goodness to come.  An inspired soup puts family and guests in a receptive mood for enjoying the rest of the menu." ~Louis P. De Gouy
Yesterday, in honor of National Soup Day, I made up a big pot of this delicious, warming chowder. It's a great recipe that I've been making for years. Lovely for when that craving for clam chowder hits.  I decided to go the extra mile and make my herbed potato bread bowls to serve the soup in. The recipe is included in this post, after the clam chowder recipe.
Melt 3 Tablespoons butter in a big soup pot.
Add:
1 medium onion, coarse chopped and cook until tender
during last minute of cooking, add 3 large cloves minced garlic.
To the pot, add:
clam juice from 2 (10 oz.) cans of whole, baby clams (set clams aside)
clam juice from 2 (6.5 oz) cans minced clams (set clams aside)
1 and 1/2 lb. cubed red potatoes, skin on
just enough chicken broth to cover
1/4 cup instant dry potatoes
1 Tablespoon parsley flakes
1 teaspoon dry thyme
1 teaspoon dry tarragon
salt and pepper
lower heat to a gentle simmer
Once potatoes are cooked and no longer crunchy, make a roux:
Add 1/4 cup butter and 1/4 cup flour to a skillet.
Stir constantly over medium-low heat until the roux is browned.
Add it to the pot, stirring until the chowder begins to thicken.
Finally, add:
1 pint half and half
the baby clams and minced clams
1/4 teaspoon cayenne papper
bring to a simmer (DON'T BOIL)
serve in bread bowls and garnish with fresh parsley and goldfish crackers
*
~ herbed potato bread bowls ~
1 Tablespoon active dry yeast
5 cups bread flour
2 teaspoons salt
1 Tablespoon sugar
2 Tablespoons dry Italian seasoning
1 Tablespoon dry dill
1 Tablespoon dry parsley flakes
1 cup mashed potatoes, room temperature
1 cup milk
2/3 cup warm water
3 Tablespoons melted butter
In a big, nonreactive bowl, combine dry ingredients. In a saucepan, warm the milk, potatoes water and butter over low heat until it reaches 120 degrees. Add to the dry ingredients, stirring until a dough forms. Dough will be shaggy. Knead for 10 minutes on a lightly floured surface, adding flour as necessary, until you have a smooth dough. Place a warmed, buttered bowl on top of a warm oven. Place dough in bowl and lightly butter the top of the dough. Cover with plastic wrap and allow to rise for two hours, or until doubled in size.
Generously coat a big cookie sheet or jellyroll pan with olive oil. Divide dough into three large portions or six smaller ones. Cover loosely and allow to rest for 10 minutes. Place three oven safe soup bowls or six oven safe ramekins rim side down on oiled cookie sheet. Oil the outside of the bowls well. Flatten the dough portions to 1/2 inch thick and cover the bowls with the dough portions. Cover loosely and allow to rise in a warm place for an additional hour. Uncover and bake at 375 degrees F for 30 minutes or until golden brown. Remove from oven. Allow bread bowls to cool for 5 minutes before removing from their forms. Place the bread bowls right side up on the cookie sheet, return to oven and bake an additional five minutes to lightly brown the insides of the bread bowls. Cool bowls before pouring soup in to serve. These bowls are also fantastic for chili, salads and party dips!
Enjoy!
~Melissa
You may enjoy these related posts: