Print Friendly Version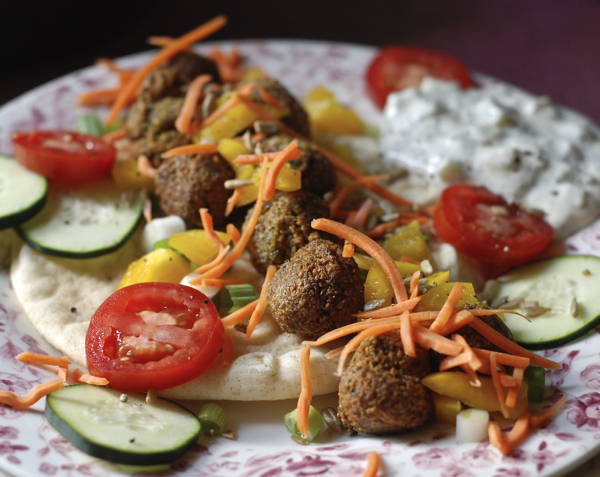 This is my version of the healthy, festive middle eastern dish called falafel. It's usually served much like the classic gyro. This time, instead of piling the ingredients into pitas or pocket bread, I decided to do something a little different. I made pita chips, and this spicy feta dip is wonderful spread on everything! The result is this tasty, comforting and exotic falafel plate.
~ pita chips ~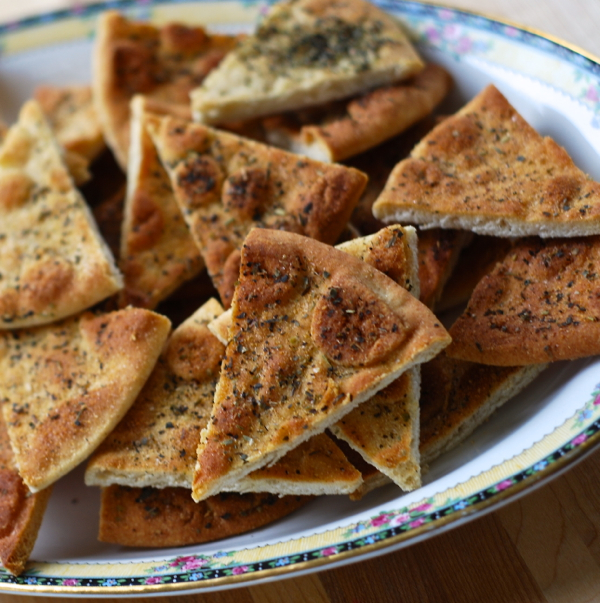 3 white or wheat pocket pitas (or more)
olive oil
poppy seeds and or sesame seeds
sea salt
fresh ground pepper
onion powder
garlic powder
oregano
Using a sharp knife, cut pita rounds into 8 wedges each. Separate each wedge into 2 thin pieces. Arrange pieces on a large cookie sheet, in one layer. Brush each piece with olive oil. Sprinkle a little of the seeds, salt, pepper, garlic powder, onion powder and oregano over all. Bake at 350 degrees F until the pita chips are golden brown and crispy. Remove to a plate to cool while you make the feta dip and falafel patties/balls.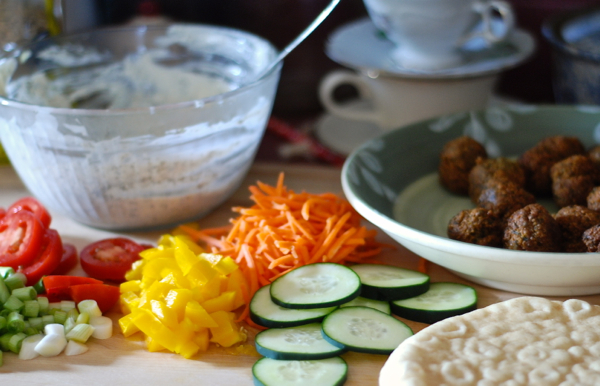 ~ ghost pepper feta dip ~
1 large head oven roasted garlic
3 Tablespoons extra virgin olive oil
1/2 lb. feta cheese, crumbled
2 Tablespoons milk
2 Teaspoons lemon juice
1/4 teaspoon ghost pepper flakes
1 Tablespoon fresh, chopped parsley
1 teaspoon dry Italian seasoning
Peel the oven roasted garlic and discard the peelings. Place all ingredients in the bowl of your food processor. Mix until smooth, adding a little extra lemon juice if it seems too thick. Salt to taste. Place in a pretty bowl or ramekin, cover with plastic wrap and refrigerate until ready to serve.
~ falafel ~
1 (15 oz.) can garbonzo beans, drained
1/2 cup fresh parsley
5 Tablespoons flour
1/4 cup chopped white onion
3 cloves garlic
1 teaspoon baking powder
olive oil for frying
Place garbonzo beans, parsley, flour, onion, garlic, baking powder and a drizzle of olive oil in the bowl of your food processor. Grind until well blended. With floured hands, form into little patties or balls, about 1 and 1/2 inches in diameter. Pour 1/3 cup olive oil in the bottom of a heavy skillet. Heat for a couple minutes, until hot enough to fry the patties. Add the patties/balls and cook until browned on both sides (about 5 minutes per side.) Place on a plate and cover with heavy duty foil to keep warm.
Thinly slice a cucumber and coarsely chop : 1/2 green pepper, 1/2 yellow pepper, 1/2 orange pepper and 1/2 red pepper (all sweet bell,) a few large slices purple onion, and a few Roma tomatoes. Combine, toss with a little extra virgin olive oil, salt and pepper. Place a little pile of the veggie mixture on each plate. Give everyone their own little bowl of feta dip and chips and 3-6 falafel patties/balls.
Enjoy!
~Melissa
You may enjoy these related posts: