Print Friendly Version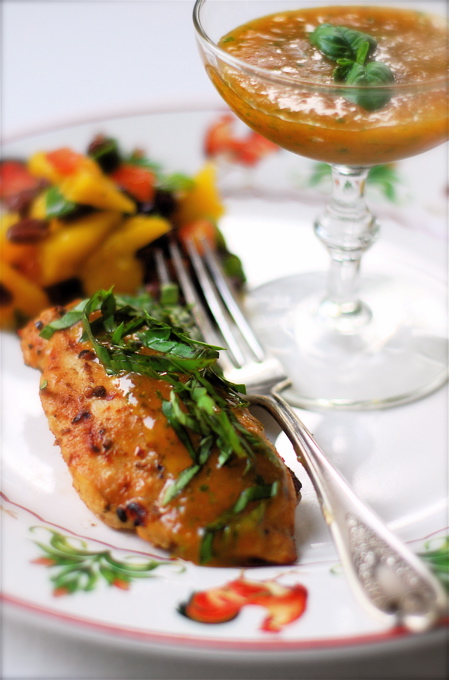 ~ basil peach bellini chicken ~
A few days ago I asked my facebook readers if they would share their favorite chicken recipes with me and I got a lot of great responses. We have chicken a couple times a week, and I'm always looking for new ways to prepare it. THIS lovely book is full of wonderful ideas, and I've referred to it many times. I've made a lot of the recipes and look forward to trying more.
Anyhoo, it was a couple days before grocery shopping day and I didn't seem to have all of ingredients I needed for any of the recipes in my favorite chicken cookbook. This led to me creating yet another  new dish. I hope you like what I came up with. Gracie and Jeff  just loved it!
4 boneless skinless chicken breasts
juice of one large lemon
1/2 cup white wine, divided
1/4 cup olive oil, divided
1 teaspoon sea salt
1 teaspoon freshly ground pepper
1 cup peach preserves
1 Tablespoon Sriracha (or your favorite hot sauce)
handful of fresh basil leaves (about 1/2 cup)
1/4 cup dry white wine
salt, pepper and chiffonade basil for garnish
Marinate the chicken in the lemon juice, 1/4 cup of the white wine, 2 Tablespoons of the olive oil, salt and pepper. Place in fridge for a few hours prior to grilling. Discard marinade. Grill chicken over charcoal until juices run clear.
for the basil peach bellini sauce:
Combine the preserves, Sriracha, basil 1/4 cup white wine, and 2 Tablespoons of olive oil in the bowl of a blender. Puree until smooth. Serve over the grilled chicken breasts.
~ Tip ~
We used the remainder of the sauce as salad dressing the next day by adding a little white balsamic vinegar to it. Completely wonderful!
Enjoy!
~Melissa
You may enjoy these related posts: