Print Friendly Version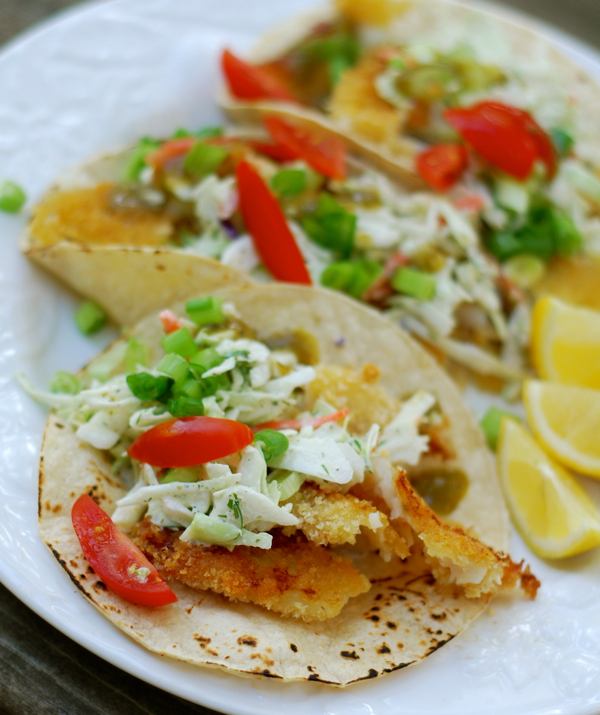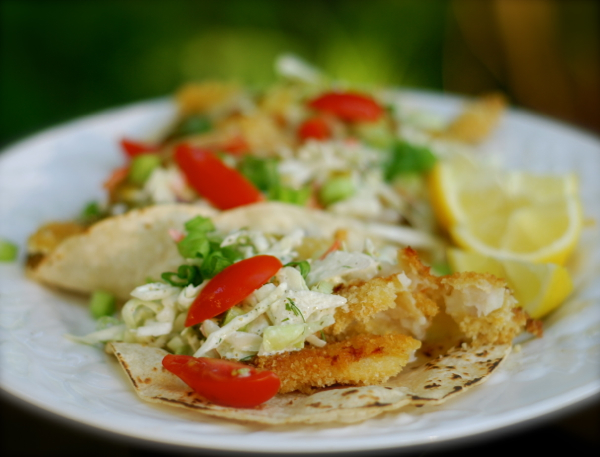 Are you ready for super easy, super CRUNCHY fish tacos that you bake in your oven? You have definitely come to the right place. I couldn't believe how good these turned out. Make sure you bake the fish until it's golden brown and crunchy.
~ preheat oven to 350 degrees F. ~
serves approximately 4 to 6 people (2 to 3 tacos each)
2 lb. fresh white fish (such as Mahi Mahi, halibut, cod, or swai)
1/3 cup + 2 Tablespoons light olive oil
1 cup all purpose flour
1 large egg, beaten
1 cup milk
1/2 teaspoon freshly ground black pepper
1/4 teaspoon salt
2 cups panko bread crumbs
Make sure the oven rack is set in the middle of the oven. Heat a large, rimmed jellyroll pan in the preheating oven for at least 30 minutes.
Pat fish very dry. In a large, shallow bowl, whisk the flour, egg, milk, pepper and salt until very smooth.
Place panko breadcrumbs in another large, shallow bowl.
Dip the blotted fish first in the flour/egg mixture and allow excess batter to drip off. Then, dredge in the panko, making sure the entire piece of fish is coated. Place on a plate. Repeat with all of the pieces of fish and then allow the fish to rest for 30 minutes at room temperature.
Once pan has been preheating, and the fish has been resting for at least a half hour, remove pan from oven. Pour the 1/3 cup olive oil on the pan so it's coated evenly with oil. Carefully place the fish on the pan so the pieces aren't touching. Drizzle the tops of the fish pieces with the remaining 2 Tablespoons of oil. Bake for 30 to 40 minutes or until golden, crispy and fish is flaky and cooked all the way through.
Use this delectable, crunchy fish as a topping for tacos. I toasted our shells over an open flame on a gas burner until soft and toasty on the edges. I served the tacos with slaw dressed in THIS dressing, goat cheese, green onions, grape tomatoes, cilantro, green onion and sriracha hot sauce.
Enjoy!
~Melissa
You may enjoy these related posts: