Print Friendly Version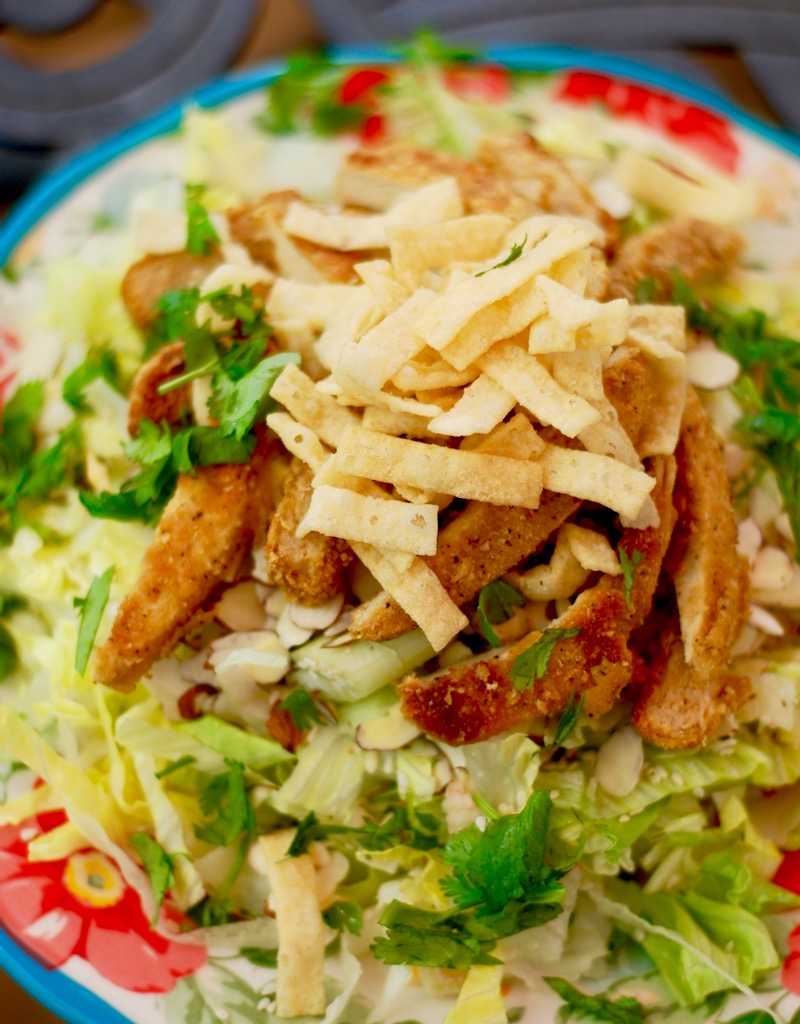 Here's another one of my favorite salads. Veganized! It's so freaking delicious. It made a wonderful lunch salad for me and my daughter. We hung out and watched the new Fantasy Island movie (corny.) The salad was good though! lol
This one is very easy to prepare, especially if you use the Gardein Seven Grain Crispy Tenders for your vegan "chicken." I just baked them up in the oven according to package directions, allowed them to cool a bit, and cut them into strips.
If you want to make homemade vegan "chicken," here's an awesome recipe for that. Just click on the link.
~ serves 4 as a meal or 8 as a side salad ~
First make the dressing and set it aside until ready to serve the salad:
6 Tablespoons rice vinegar
2 Tablespoons fresh lemon juice
1 teaspoon white pepper
1 and 1/2 teaspoons sea salt (we use pink Himalayan)
1 and 1/2 teaspoons dried mustard (not English)
1/2 cup olive oil
1 Tablespoon toasted sesame seed oil
4 Tablespoons sugar
Place all in small canning jar and shake to blend.
For the salad:
16 oz. Gardein Seven Grain Crispy tenders, cooked according to package
1 head romaine lettuce (or iceberg), chopped up
2 cups chopped celery
6 Tablespoons toasted sesame seeds
1 cup toasted, sliced almonds
fried wonton strips (as many as you want)
a handful of fresh cilantro, chopped
8 green onions, sliced (my addition, not part of original recipe)
Toss all salad ingredients in a bowl, except for the vegan chicken and wonton strips.
Once ready to serve, toss the salad with the dressing and plate. Top each salad with some of the "chicken" and wonton strips.
Enjoy!
~Melissa
You may enjoy these related posts: