Print Friendly Version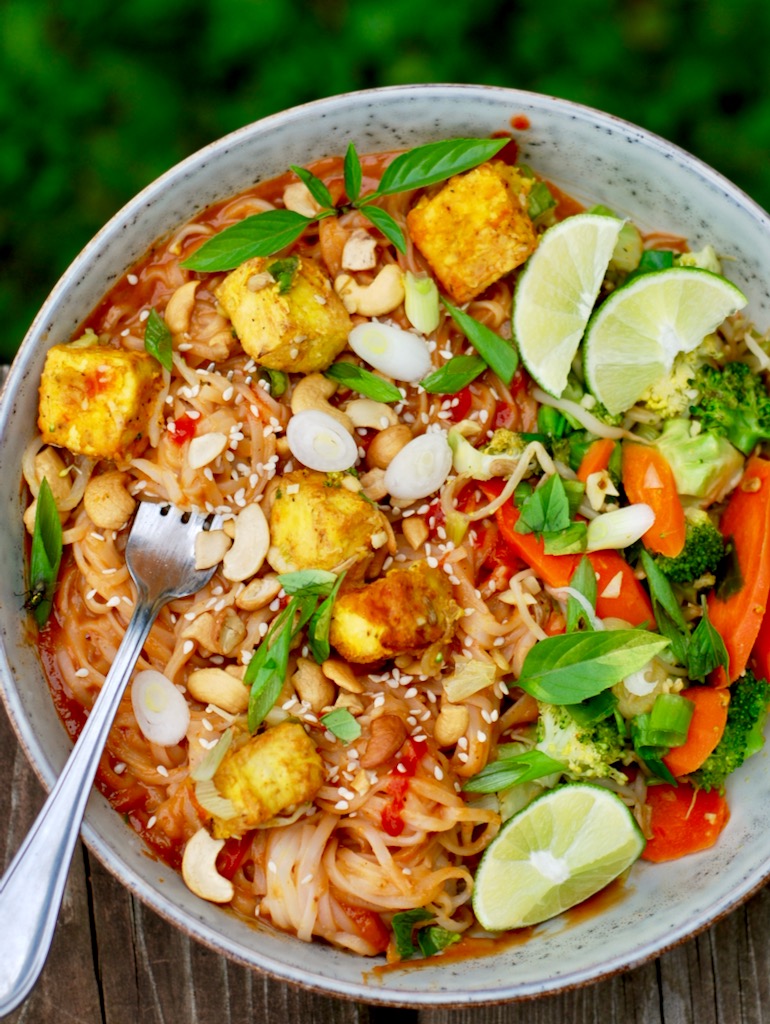 I just love this time of year. The leaves are beginning to turn, the air is crisp and clear, and the food switches from cold and fresh to warm and comforting. I have so many ideas for casseroles, yeast breads, wraps and sandwiches to go with soups, chilis, and stews. Apple and pumpkin desserts are on the menu too! We just visited our favorite apple farm yesterday, so stay tuned for some pumpkin spiced, streusel-topped goodness.
Pad Thai is great all year round, and I actually like it cold in the summer. But this time I made it hot. I always forget how easy it is to prepare. It's so easy it could be on your weekly menu rotation.
This version is vegan (of course,) and I use air-fried tofu as the primary protein source. It works perfectly, as the Pad Thai I used to make included scrambled eggs. Obviously scrambled eggs aren't vegan, but scrambled tofu is an amazing imposter. Feel free to substitute canned chickpeas, seitan, or vegan "shrimp" if you wish… Or add them right along with the tofu. Totally up to you.
~ serves 4 ~
For the Pad Thai Sauce:
1 small (6 oz.) can tomato paste
6 Tablespoons lite soy sauce
6 Tablespoons brown sugar
1/4 cup fresh lime juice (lemon juice or apple cider vinegar work too)
3 Tablespoons peanut butter
2 Tablespoons sriracha hot sauce or Korean gochujang
2 Tablespoons mellow white miso paste
1 teaspoon toasted sesame oil
water to thin to desired consistency (2 to 4 Tablespoons)
Place all in a saucepan and whisk until sauce is heated through. Remove from heat and set aside.
For the air-fried tofu:
1 block extra firm tofu, patted dry, cut into 1 inch cubes
3 Tablespoons to 1/4 cup vegan mayonnaise for coating tofu cubes
seasonings of your choosing (I used about 1 teaspoon each: garlic powder, onion powder, smoked paprika, turmeric, and Mrs. Dash)
1/2 cup all purpose flour
Mix seasonings and flour together.
Gently toss tofu cubes with mayonnaise, and then dip each cube in the seasoned flour mixture. You want the cubes evenly and lightly coated.
When you are ready to plate your Pad Thai, place prepared tofu in the basket of your air fryer and "fry" for about 8 minutes at 375 degrees F. Toss as needed to insure cubes are browning evenly and not burning. Once hot all the way through and golden brown, set aside. Cover to keep warm. I usually make my tofu right before I plate my Pad Thai so it's hot and crispy when I serve it.
For everything else:
8 oz. Pad Thai rice noodles
2 Tablespoons olive oil
4 cups broccoli florets and thinly sliced stems
2 cups scallions, sliced
2 large carrots, peeled and sliced thin
1 large red bell pepper, stem and seeds removed, coarse chop
2 large garlic cloves, minced
8 oz. mung bean sprouts (canned is fine)
1 cup lightly salted, roasted peanuts or cashews
Fresh cilantro sprigs for garnish
Thai basil sprigs for garnish
lime wedges
toasted sesame seeds
Cook noodles according to package directions, set aside.
Drain sprouts very well if using canned.
Heat olive oil in skillet. Add carrots, red bell pepper, and scallions. Cook until tender. Add garlic, cook an additional 30 seconds. Add broccoli and sprouts. Cover and cook until the broccoli is brilliant green and tender/crisp.
To plate:
Toss noodles with heated sauce to coat. Place in bowls. Top with veggie stir fry mixture, air fried tofu, peanuts, cilantro, basil, lime wedges, and sesame seeds. Drizzle a little hot sauce over the top. Salt and pepper, to taste.
Enjoy!
~Melissa
You may enjoy these related posts: