Print Friendly Version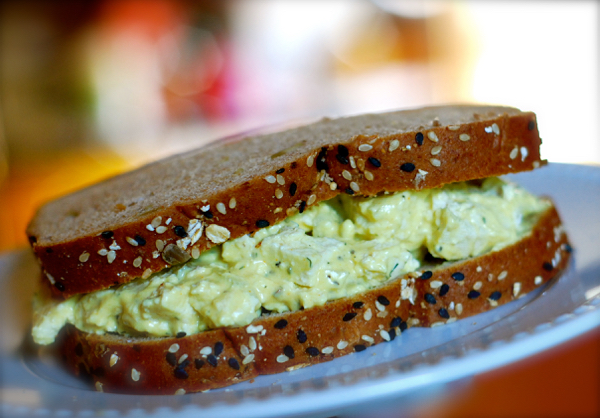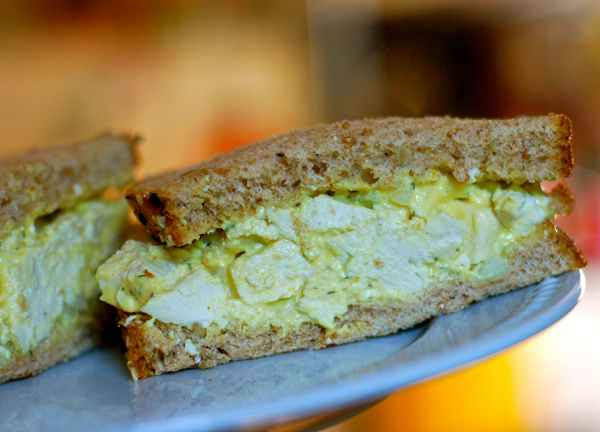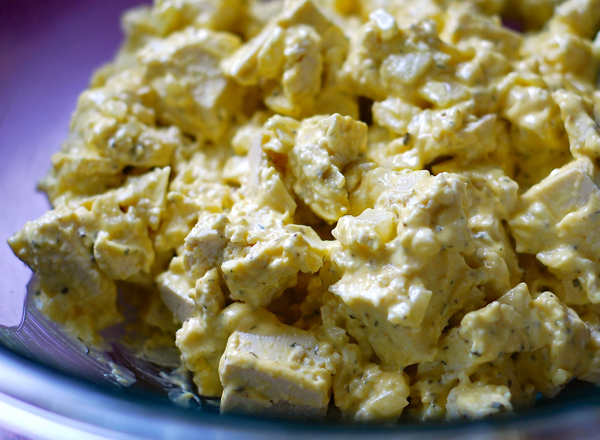 I did it! I perfected vegan "egg" salad! It's obviously not made with eggs, but extra firm tofu is the perfect fake out in this recipe. It's easier than traditional egg salad because there's no boiling and peeling involved. Just open up a 14 oz. container of your favorite extra firm tofu, press it for 15 minutes, pat it dry, and you're in business. My husband, who is not yet vegan, even loves it. It tastes just like egg salad. Not kidding. Try it.
Kala Namak (black sea salt) gives this vegan egg salad a slightly "eggy" flavor. I've made this salad with it and without it, and love it both ways.
1 (14 oz.) container extra firm tofu, pressed
1/2 heaping cup vegan mayonnaise (we love Just brand or Hellmann's)
1 teaspoon prepared yellow mustard
1 Tablespoon chopped sweet pickles
1 teaspoon fresh or dry dill
1/2 teaspoon celery seed
1 teaspoon garlic powder
1 teaspoon onion powder
1/3 cup finely chopped onion
1 rib celery, finely chopped
1 teaspoon sugar
1/2 teaspoon turmeric
1 teaspoon kala namak (black sea salt) or regular sea salt
freshly ground black pepper, to taste
1/2 teaspoon nutritional yeast
a little paprika, or smoked paprika (optional)
After the tofu is pressed, drain it well, pat it dry and cut it into 1/2 inch chunks. Place tofu chunks in a large mixing bowl. It's very important to cut the tofu into chunks and not just crumble it. You want the tofu to resemble egg whites, not porridge.
In a separate bowl, mix the rest of ingredients (except for the paprika) using a wire whisk. Taste and adjust seasonings. You can add a little more sugar if you want it sweeter, a little pickle juice or lemon juice (not too much), and a little more mustard if you like it more tangy. Don't add too much liquidy stuff. It's supposed to be a thick dressing.
Pour dressing over tofu chunks. Using a rubber spatula, gently toss the dressing and tofu chunks until everything is evenly coated. You can break up the tofu using the edge of the spatula if you like smaller chunks. Cover and chill in refrigerator for 2 hours prior to serving.
Serve on toasted wheat bread (open faced), or on soft bread (sandwich style). Sprinkle a little paprika over if you like your egg salad to taste like deviled eggs (which I do!) I like a drizzle of sriracha or Cholula hot sauce too.
Enjoy!
~ Melissa
You may enjoy these related posts: