Print Friendly Version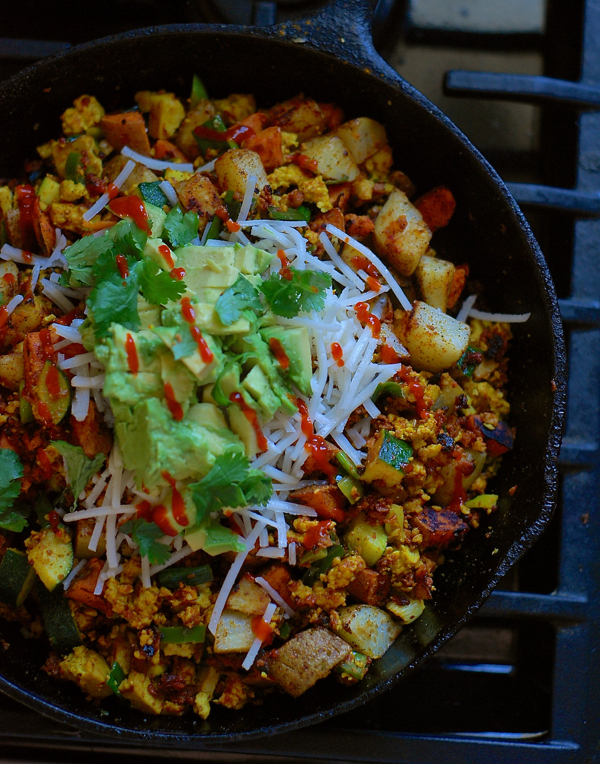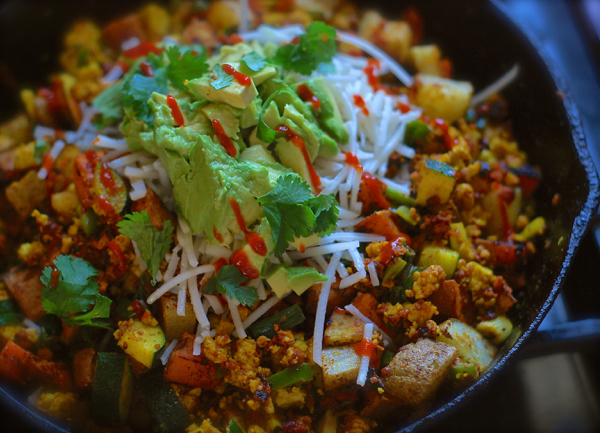 This is, hands down, one of my favorite healthy breakfasts! So clean, fresh, and delicious. This deluxe tofu scramble is loaded with tasty ingredients and lean protein.
for the potatoes:
2 lb. baby potatoes, unpeeled and quartered (any type)
3 Tablespoons vegetable oil
1 teaspoon smoked paprika
1 teaspoon Italian seasoning
1 teaspoon sea salt or seasoned salt
1/2 teaspoon freshly ground black pepper
3 large garlic cloves, chopped fine
Place potatoes in a pot of water and bring to boil. Boil just until fork tender (not mushy) approximately 7 to 8 minutes. Drain and set aside. You'll use the rest of the potato ingredients later in the recipe.
for the tofu scramble:
16 oz. block extra firm tofu, pressed and crumbled into big chunks
1 Tablespoon vegetable oil
4 green onions, sliced
1 cup chopped, sweet bell pepper (any color or a combination of colors)
1/2 zucchini, cut into big chunks
1/4 cup nutritional yeast
1 teaspoon ground turmeric OR curry powder
salt and pepper, to taste
Add oil to a large skillet over medium-high heat. Once hot, add tofu, onions, zucchini, and peppers. Saute for 3 to 4 minutes. Add the nutritional yeast, turmeric, salt, and pepper. Stir to combine and cook an additional 2 minutes. Add a splash of soy milk or veggie stock if the mixture seems too dry. (2 to 3 Tablespoons should do the trick.) Cook an additional minute, remove from heat, transfer to a covered dish, and set aside.
Using the same skillet, Add the reserved 3 Tablespoons of oil (from beginning of recipe), potatoes, and seasonings. Toss to coat. Cook over medium heat for approximately 15 minutes (so the potatoes get browned and slightly crispy around the edges.) Add the garlic. Cook an additional minute. Add the scramble back to the pan. And serve with suggested toppings, or whatever you like!
suggested toppings:
chopped spinach, kale, basil, parsley, or cilantro
halved cherry tomatoes
shredded vegan cheese
avocado slices, chunks, or guacamole
cooked, crumbled, vegan bacon or sausage
your favorite salsa or hot sauce
Enjoy!
~Melissa
You may enjoy these related posts: