Print Friendly Version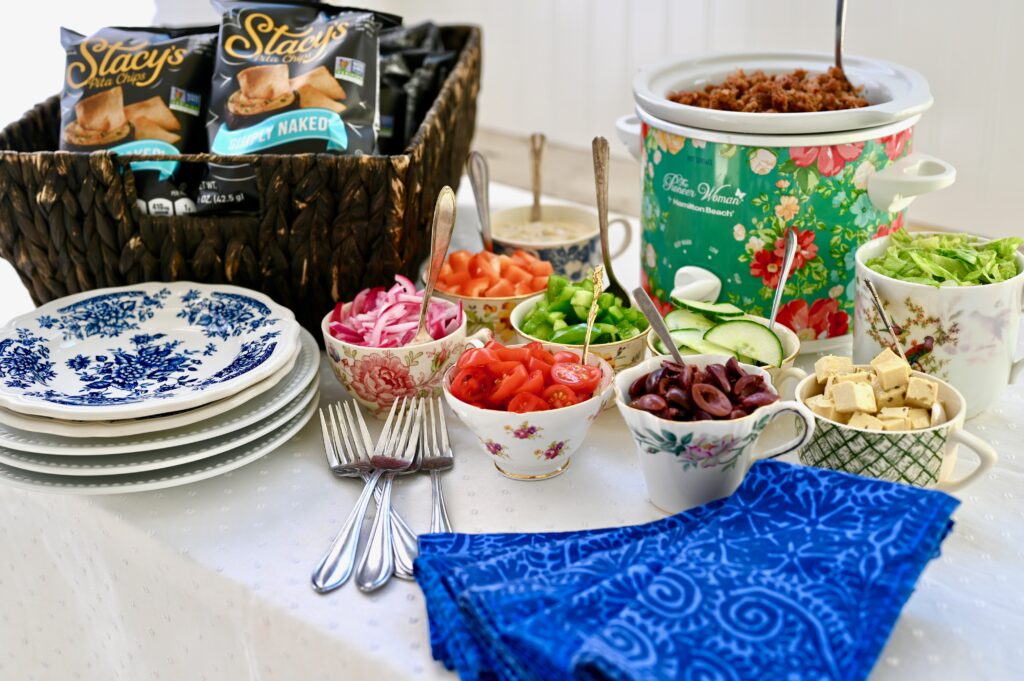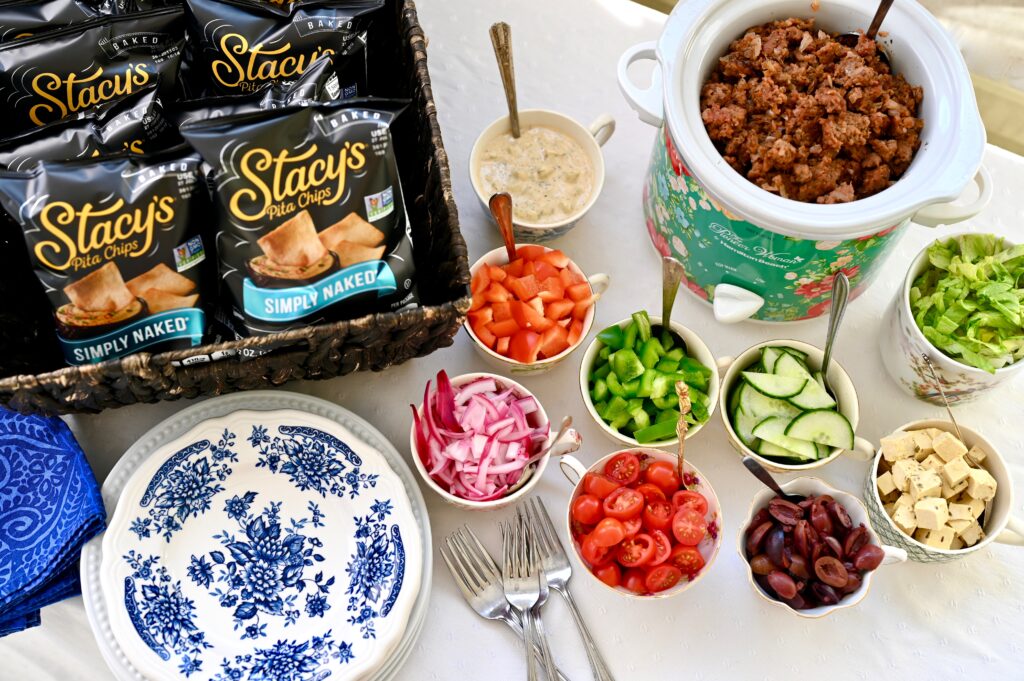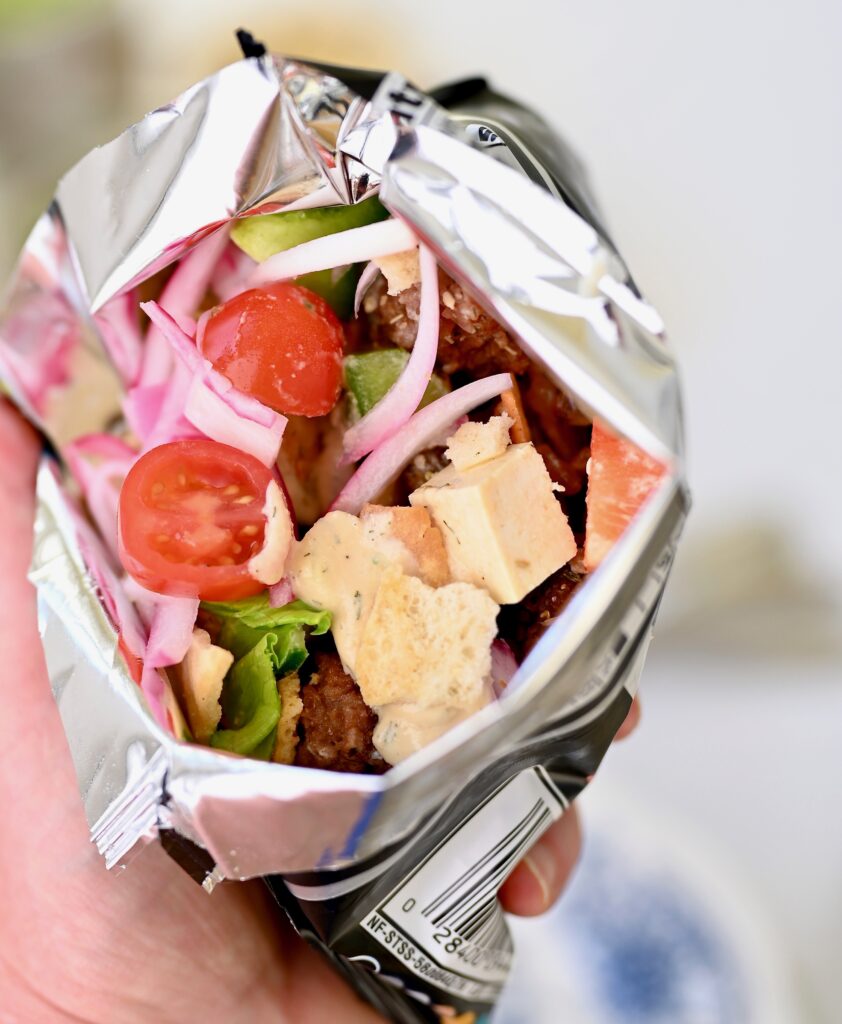 Hello friends! How are you all enjoying summer? Is is hotter than the blazes where you are? Minnesota has been unpredictable, but that's pretty standard for this state. 100 degrees one day, chilly the next, and on a sunny day the storm clouds might start rolling in just in time to disrupt your beach day.
I know a lot of people think of Crock Pot cooking is for cold days. Things like soups, stews, and cozy casseroles to warm you up. But do you use your slow cooker in the warm months? It's such a great way to cook so you don't heat up the kitchen. And most people are busier in the summer and don't want to spend hours preparing a meal when they can be outside reading an amazing novel in their hammock, or hanging out by the pool.
Another way to use that trusty Crock Pot is to turn it into a fancy "bar" where guests can serve themselves. I've had such an overwhelmingly enthusiastic response to my Crock Pot Mashed Potato Bar, Crock Pot Macaroni & Cheese Bar, and my Crock Pot Walking Taco Bar, that I decided it was finally time to share another Crock Pot bar with you. Ready for this?
How about a Crock Pot Walking Gyro Bar?
Oh yes, I did.
Who doesn't love a gyro in the summer time? I always think of street fairs and food trucks at outdoor concerts when I think of eating gyros.
This Crock Pot Walking Gyro Bar is easy and delicious. I made my walking gyro bar vegan, but if you're not, you can make this with ground meat and regular feta cheese. Orrrr… you could try my version. Maybe I'll convert you with this recipe. 🙂 It's seriously AMAZING.
So if you're making the vegan version you'll want to prepare the tofu feta the day before you plan on doing the gyro bar. (The hilighted link will bring you to my recipe for "Big Fat Greek Potato Salad" and you can find the recipe for the feta there.) Chill it in the refrigerator overnight so it can marinate. Make your tzatziki (my recipe can easily be veganized using plain, vegan yogurt or vegan sour cream.) Make your pickled red onion (if you want to. You can also serve the gyros with fresh, chopped red onion if you don't want it pickled.) You can just use store bought versions of these things, or you could even use ranch dressing if you don't want to use the tzatziki. Do what you want.
Putting the bar together is easy. Ready?
To make the gyro meat:
1 lb. ground meat. We use Beyond Beef (use more, depending on the size of your crowd)
1 large onion, chopped fine
2 garlic cloves, minced
1 Tablespoon dried oregano
2 teaspoons dried thyme
1/2 teaspoon fresh rosemary, chopped fine
dash of cumin
freshly ground black pepper, to taste
Place all in a skillet and brown. If using Beyond Beef, make sure to follow package directions. Don't overcook it. Once meat is done, place in a crock pot on the "Warm" setting.
Condiments:
tzatziki sauce or ranch dressing
chopped red and green bell pepper
pickled red onion (or thinly sliced red onion)
sliced grape tomatoes
thinly sliced cucumber, cut into half moons or refrigerator pickles
kalamata olives, pits removed, and halved
tofu feta (or regular feta), cubed or crumbled
shredded lettuce
Single serving bags of plain, salted pita chips (We love Stacy's)
Place all condiments in separate ramekins or teacups (as shown above.) Place the single serving bags of chips in a pretty basket.
To serve:
Crunch up pita chips a little before opening bags. You can open them from the top, or slice them down the side using a scissors.
Top with the gyro meat and other condiments. The beauty of this Walking Gyro Bar is that guests can make their own walking gyros exactly the way they like them.
Enjoy!
~Melissa
You may enjoy these related posts: