Print Friendly Version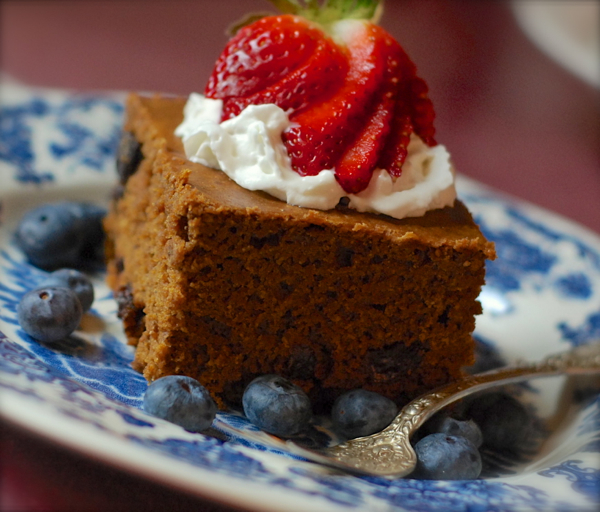 I've been on a roll, making lots of breads and soups in my kitchen. This particular recipe is a cross between bread and cake. It's not too sweet, so it's the perfect accompaniment to tea and is wonderful topped with a little sweetened whipped cream or honey butter and served with fresh fruit. Feel free to add a dab of jam or preserves if you like.
Because this is a bread and not actually a cake, it's the perfect vehicle for savory toppings as well. I've split slices of this and topped them with a couple spoonfuls of curried chicken salad for a tea luncheon with my friends and everyone loved it. It's also yummy with spicy soups and stews.
~ preheat oven to 350 degrees F. ~
3/4 cup brown sugar or coconut sugar
3/4 cup molasses
1 large egg, lightly beaten
2 cups unbleached all purpose flour
1 cup whole wheat flour
1 cup whole grain flour (I used Bob's Red Mill 10 Grain)
2 teaspoons baking soda
2 teaspoons ginger
2 teaspoons cinnamon
1/4 teaspoon ground cloves
1/2 teaspoon sea salt
2 cups milk (dairy or nut)
1 heaping cup raisins or other dried fruit
2 heaping Tablespoons orange marmalade
Generously butter a 9 x 13 glass cake pan. Mix all ingredients in a large mixing bowl just until evenly combined. Scrape into prepared pan using a rubber spatula. Smooth top so the batter is level. Bake in preheated oven for 40 minutes, or just until a wooden skewer comes out clean when inserted into the center of the bread. Allow to cool most of the way before slicing into squares and serving.
Enjoy!
~Melissa
You may enjoy these related posts: