Print Friendly Version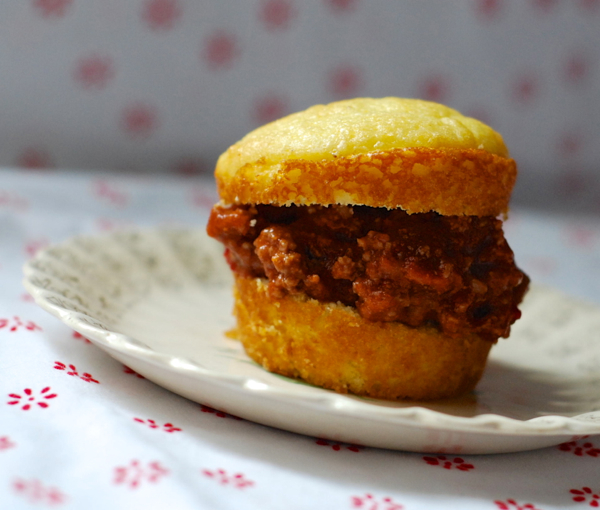 The combination of cornbread and chili got me thinking that maybe corn cake (or cornbread muffins) and sloppy joes would make a good pairing. Oh my gosh! This turned out to be a match made in heaven. Super easy and the perfect, fast comfort food meal. Just make a little spinach salad as an accompaniment or as an appetizer and, voila! Dinner is served!
You can make everything from scratch if you like. Use THIS recipe for the corn cake (make it in muffin tins instead of a cake pan) and THIS recipe for the sloppy joe filling. Or, if you want to make this super easy, the way I made them last night, just follow the instructions below…
for the corn cake muffins:
1 box Jiffy cornbread mix
1 box Jiffy yellow cake mix
2 eggs
1/2 cup water
1/3 cup milk
Generously butter 12 muffin tin cups. In a big bowl, combine the cornbread mix, cake mix, eggs, water and milk just until incorporated. Fill muffin tin cups evenly (approximately 2/3 full) with the batter. Bake at 375 degrees F. for 15 to 20 minutes or until a toothpick inserted into the center of a cake comes out clean. Allow corn cakes to cool for 10 minutes in the pan before turning out onto a cooking rack to cool the rest of the way.
for the sloppy joe filling:
2 lb. lean ground beef
2 cans Original Manwich sloppy joe sauce
Cook ground beef in a large heavy skillet until no longer pink. Break up meat with a fork as it cooks. Once cooked, add the sauce. Simmer until completely heated through.
to assemble the sliders:
Split the corn cakes horizontally. Spoon approximately 3 Tablespoons of filling into each. This recipe will make approximately 12 sliders.
Enjoy!
~Melissa
You may enjoy these related posts: