Print Friendly Version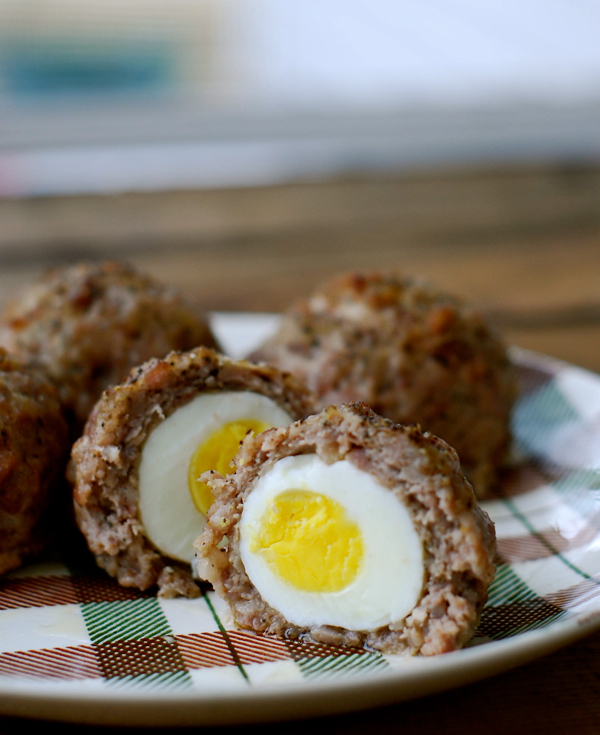 Scotch eggs are one of my favorite treats to serve for a hearty "high" tea or brunch. They're so delicious and satisfying. I usually enjoy mine with fresh fruit, crusty toasted bread, a wedge of sharp, white cheddar cheese, some Scottish or English pickle, pickled pearl onions and a little maple syrup, steak sauce, and/or honey Dijon for dipping. These little yummies would make an amazing addition to a traditional Ploughman's platter lunch.
Personally, I think Scotch eggs are best when the middle is soft and just a bit gooey. I used hard boiled eggs this time because not everyone in my house shares my affinity for runny eggs. If you like your Scotch eggs soft on the inside, simply boil them for less time before peeling and assembling. (I've found the magic number is about 4 minutes.)
serves 4:
~ preheat oven to 400 degrees F. ~
1 lb. bulk pork sausage (or sausage removed from casings)
1 teaspoon onion powder
1 teaspoon garlic powder
4 medium-boiled or hard boiled eggs, cooled a bit and peeled
3/4 cup panko bread crumbs (optional)
black pepper
various condiments and dipping sauces of your choosing
Mix onion powder and garlic powder into sausage until evenly combined. Divide the sausage into 4 portions and form into patties. Place each of the prepared, peeled eggs in the centers of the sausage patties and fully enclose the eggs within the patties so no egg is showing.
Roll the sausage-coated eggs in panko crumbs (if you wish) and place them on a cookie sheet. Sprinkle a little black pepper over each. Bake in preheated oven for 35 minutes or until internal temperature reaches 160 degrees F. Serve.
Note ~ To reheat, cut Scotch egg in half and place on a microwave-safe plate. Heat for 30 seconds.
Enjoy!
~Melissa
You may enjoy these related posts: