Print Friendly Version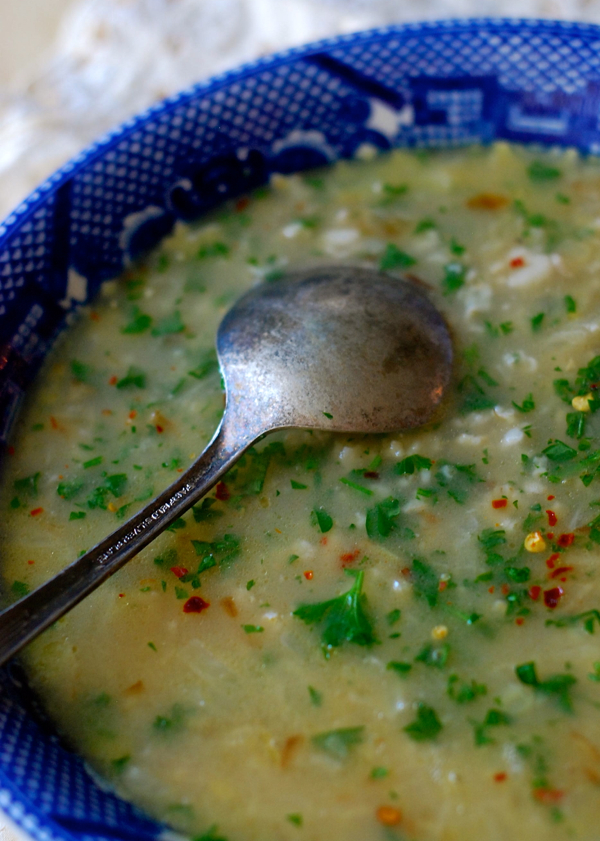 "Mares eat oats and does eat oats and little lambs eat ivy. A kid'll eat ivy too, wouldn't you?" ~children's lullabye by The Pied Pipers 1944
I just returned home from a fun weekend hanging out with friends. We had massages, went to dinner, played poker, and enjoyed an awesome Sunday brunch. I'll share photos and more details very soon!
Here's a recipe for a delicious, simple, fast soup. It's mild and unassuming and the perfect accompaniment to a spicy sub sandwich or triple decker club. I love simple, humble food and it really doesn't get more simple than this dish. Just the name "oat soup" makes me think of the children's lullabye Mairsy Doats (Mares Eat Oats.)
This recipe was first published in the San Francisco Chronicle food column by Marion Cunningham, the author of one of my favorite "go to" cookbooks, The Fannie Farmer Cookbook. She received lots of enthusiastic responses to this soup, and I can see why! I made a couple minor changes. Give it a try.
3 Tablespoons butter (I used 1 Tablespoon butter + 2 Tablespoons olive oil)
1 large onion, chopped
1/2 cup uncooked, old fashioned rolled oats
6 cups homemade chicken broth
sea salt and freshly ground black pepper (I used a little red pepper too)
1 cup cooked oatmeal
3 to 4 Tablespoons finely chopped, fresh parsley
Melt butter/oil in a large stock pot over medium-low heat. Stir in onion and cook until tender and lightly golden. Add raw oatmeal and cook constantly until golden and toasty smelling. (You may have to add a bit more butter or oil.) Stir in chicken stock and mix well. Bring stock to simmer and add the cooked oatmeal. Season with salt and pepper. Cook for an additional 5 minutes. Add parsley and serve.
Enjoy,
~Melissa
You may enjoy these related posts: