Print Friendly Version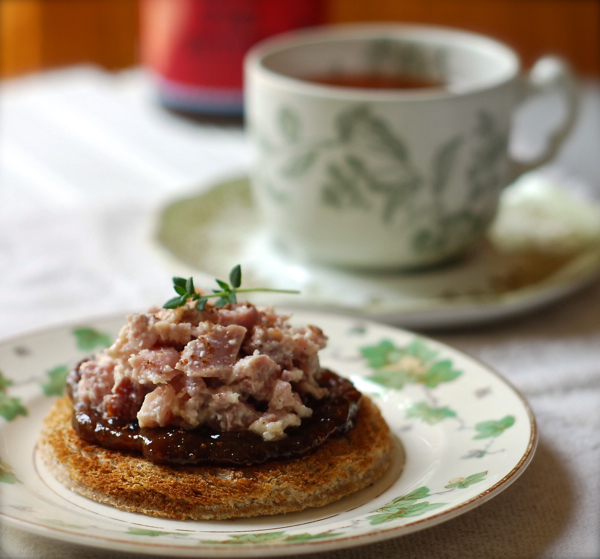 It's so great when a recipe just comes together the way you want it to. These little tea sandwiches turned out perfect. Just the right amount of everything to equal a great tea treat. These were good with my iced Grand Keemun, but I imagine they would be wonderful with just about any good quality black tea. I don't usually have fig butter in my refrigerator because some of the local shops and grocery stores charge upwards of $11 for a tiny little jar. However….on our last Trader Joe's excursion I scored a few jars at only $2.29 a jar! Ya can't beat that! It's sooooo good and figgy and the sweetness is a great contrast to the smoky, salty ham.
makes about 10 tea sandwiches:
10 slices of bread (your choice) toasted
1 jar Trader Joe's Fig Butter
2 cups chopped, honey baked ham
1/3 cup real mayonnaise
2 heaping Tablespoons finely grated Parmesan cheese
1 teaspoon dijon mustard
1 teaspoon onion powder
1/2 teaspoon nutmeg
1/2 teaspoon freshly ground black pepper
fresh thyme sprigs for garnish
Using a large, circle shaped cookie cutter, cut the toast pieces into circles. (Place the crusts and extra toast pieces into a little ziploc for another use.) In a medium sized mixing bowl, combine the chopped ham, mayonnaise, Parmesan, mustard, onion powder, nutmeg and black pepper. Mix very well so all ingredients are evenly incorporated.
Spread some of the fig jam on each piece of toast. Top with little mounds of the ham salad. Plate and garnish with the thyme.
Enjoy with a cuppa!
XO,
~Melissa
You may enjoy these related posts: