Print Friendly Version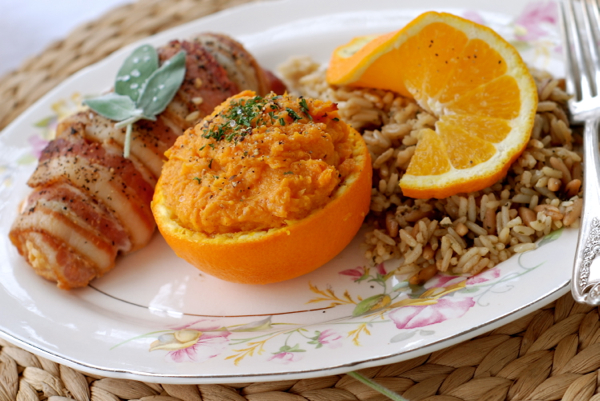 ~ pancetta & sage wrapped chicken breasts ~
 I like to get these ready the night before and then just cook them a half hour before guests arrive. Chilling the pancetta-wrapped chicken in the fridge overnight helps maintain an even shape during cooking. You can make these in a skillet or in the oven. Both ways are wonderful. I served these with twice baked yams on the "half shell"  and wild mushroom & herb rice pilaf. The flavor combination reminded me of Christmas. This would be perfect for a holiday luncheon with friends!
1 pound pancetta, thinly sliced and uncoiled (OR bacon if you can't find pancetta)
12 large, fresh sage leaves
salt and freshly ground black pepper
extra virgin olive oil
Lay 3 or 4 slices of the pancetta side by side on work surface so it overlaps. Place a fresh or completely thawed chicken breast at one end of the strips. Lay 3 sage leaves on the breast, sprinkle with salt and pepper and roll up in the pancetta so you completely enclose the chicken breast in the pancetta. Wrap in plastic wrap to form a tight, compact "log." Repeat with the other breasts and chill in the refrigerator 8 hours or overnight.
About 30 minutes before you wish to eat, remove from refrigerator. Heat a large, heavy skillet or Dutch oven. When skillet is hot, add a thin layer of olive oil to the bottom of the pan. Place breasts in pan, seam side down. Allow pan to heat up again. After about 2 minutes, or when the breasts begin to sizzle, lower heat to medium. Allow pancetta to brown slowly, turning each breasts at least 4 times (5 minutes per side-20 minutes total.) Remove pan from heat and allow the chicken to rest for 3 minutes. Flip, and allow them to rest another 3 minutes. Slice into discs if you wish, or serve whole.
Alternatively you can place the prepared breasts on a baking sheet and cook at 400 degrees F. for 35 to 40 minutes. The chicken is done when juices run clear.
Enjoy!
~Melissa
You may enjoy these related posts: