Print Friendly Version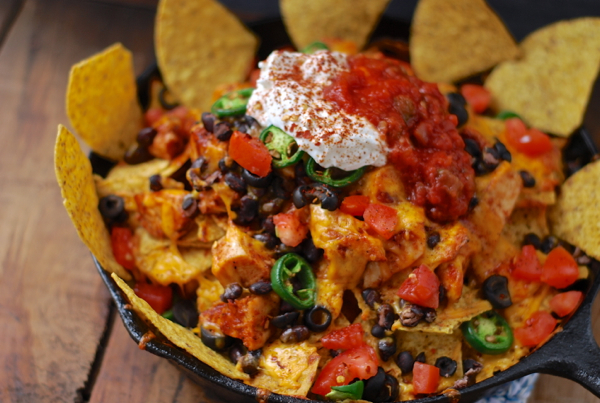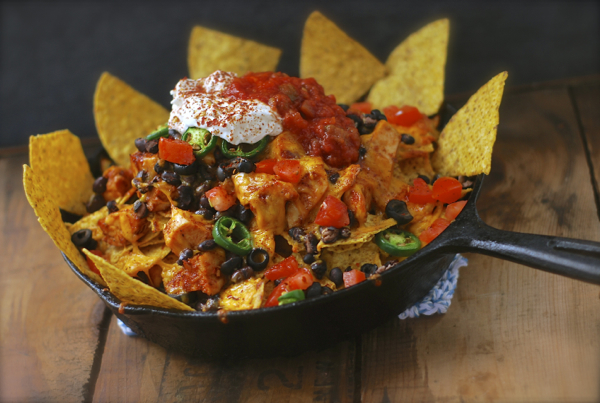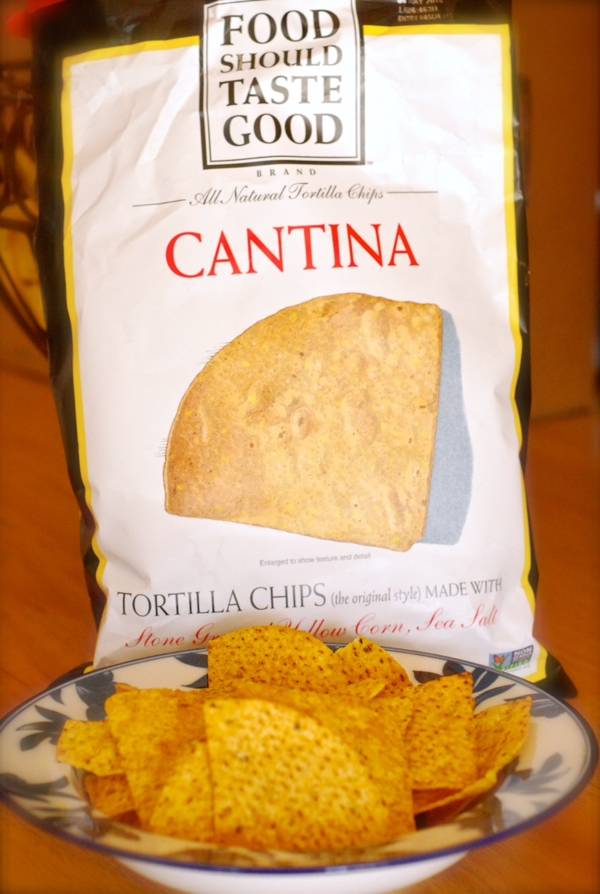 I am sooooo darn excited to be working with the awesome company Food Should Taste Good. One of their reps contacted me and asked if I would like to develop some unique recipes using their chips, to which I replied an enthusiastic "YES!"
She also asked if I would provide a drink pairing for each recipe creation, which I think is a great touch, not to mention fun for me (the cook) and you (the reader.) So each time I share a recipe featuring Food Should Taste Good products, look for my cocktail pairings at the bottom of the post. I'll be sharing a recipe link for a drink containing alcohol, a wine pairing, and a non-alcoholic option.
Now for those nachos!
~ preheat oven to 400 degrees F. ~
1 bag Food Should Taste Good Cantina Chips
3 large chicken breasts completely cooked and cubed or shredded (we grilled ours)
10 to 12 oz. of your favorite BBQ sauce
2 teaspoons chili powder
1 teaspoon cumin
1 teaspoon onion powder
1 teaspoon garlic powder
10 to 12 oz. shredded cheddar cheese
1 can red or black beans, rinsed and drained very well
1 small can sliced black olives, drained very well
2 fresh jalapeno peppers, sliced (stems removed) OR sliced, pickled jalapenos
1 Roma tomato, chopped
sour cream
salsa
shredded lettuce
ripe avocado, chopped
hot sauce
Place half of the chips in the bottom of a large (12 inch) cast iron skillet. Place the cooked, cubed/shredded chicken in a large mixing bowl. In a small mixing bowl, combine the BBQ sauce, chili powder, cumin, onion powder and garlic powder. Mix well and toss with chicken until sauce is evenly distributed and all chicken is coated. Place half of the BBQ chicken over the chips in the skillet, followed by half of the beans and half of the cheese. Repeat layers, starting with chips and ending with cheese. Top with sliced olives and jalapenos. Place in preheated oven for 20 to 25 minutes or until everything is heated through and cheese is completely melted. Top with any or all of the suggested accompaniments: tomato, sour cream, salsa, lettuce, avocado and hot sauce.
These awesome nachos are amazing with margaritas. The salty-sweet lime mixed with tequila is the perfect accompaniment to festive, Mexican fare! For wine, you'll want to go with a bold, spicy red that can stand up to the grilled meat and BBQ sauce.
Cocktail Pairing: Margarita Goddess Margaritas
Wine Pairing: Syrah or California Red Zinfandel
Non-alcoholic drink pairing: Sanpellegrino Limonata, a non-alcoholic red wine or non-alcoholic beer served with lime wedges
Enjoy!
~Melissa
You may enjoy these related posts: