Print Friendly Version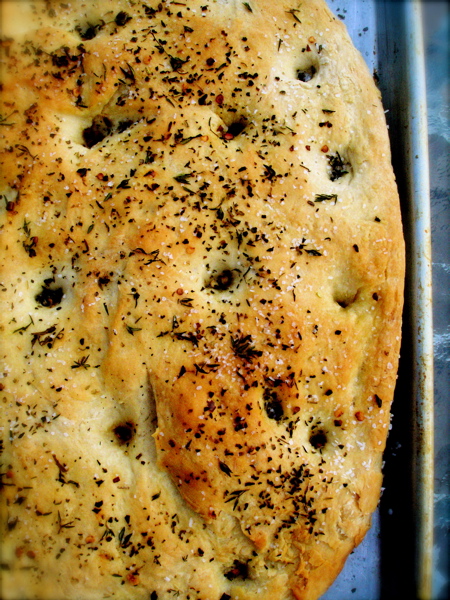 ~ olive oil focaccia ~
This is an appetizing, flavorful bread that I've made many times. It's yummy as the first course of an Italian meal, served with various dipping oils and balsamic vinegar, spread with cream cheese, basil pesto and topped with turkey, bresaola, fresh mozzarella and grilled veggies as a lunch sandwich, and topped with pizza toppings for a quick and easy dinner. To make it into pizza, just follow the directions for topping a bialy pizza like I did in THIS POST.
This dough is sticky and sort of hard to knead. The amount of water and flour needed varies slightly with each batch, but after a couple loaves you'll be a pro.
1 and 1/2 cups warm water
1 (1/4 oz.) package active, dry yeast
1 teaspoon honey
2 and 1/2 tablespoons extra virgin olive oil
5 cups flour
3 teapoons salt
1/2 cup hot water
fresh or dry herbs such as basil, rosemary, parsley and thyme
fresh ground pepper
Place water, yeast, honey, half the olive oil and 1/2 cup of the flour in a bowl. Mix with an electric mixer until smooth. Cover with plastic wrap and allow to rest for 30 minutes, until it looks frothy. Mix in the rest of the flour and the salt. Using well-floured hands, moosh the bread from one side of the bowl to the other, as it will be too soft and sticky to knead. Or, if you have a tabletop mixer with a dough hook, let it mix for 5 minutes on medium-low speed. Cover the bowl with plastic wrap again and place it in a warm spot to rise for 1 and 1/2 hours.
Lightly oil a jellyroll pan. Punch down the dough several times. Spread it gently and evenly in the pan, starting at the center of the dough and working your way to the sides. I like my focaccia loaves to be long and oval, so I don't stretch it all the way to the sides of the pan. Cover with a new piece of oiled plastic wrap, and allow it to rise for an additional 45 minutes.
Make a few dimples in the loaf using your thumb and then brush the loaf with a little salt water mixed with olive oil. Sprinkle with herbs and fresh ground pepper.
Bake at 450 degrees F. for 30 minutes, until the bread is golden, crusty and sounds hollow when tapped. Remove from oven and allow to cool a bit before serving.
Enjoy!
~Melissa
You may enjoy these related posts: