Print Friendly Version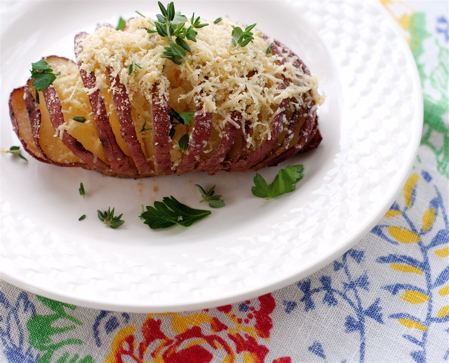 ~ fan potatoes ~
Fan potatoes, or Hasselback potatoes are made by cutting slits across the potatoes every 1/6 inch, roasting them in the oven, basting them with butter, and sprinkling them with a cheesy seasoned breadcrumb mixture close to the end of their cooking time. While the potatoes roast the little slices will fan out dramatically, thus the name "fan potatoes." These little gems are cheesy, buttery, toasty and completely delicious. Some people like to peel their fan potatoes, but we prefer to leave the skins on, as it adds to the wonderful flavor.  We love them with our spiral cut, honey baked ham on Easter, and with grilled ribeyes.
6 large baking potatoes, unpeeled (red or russet)
1/4 to 1/3 cup unsalted butter, melted
1 teaspoon Lawry's seasoned salt
3/4 cup finely grated, sharp cheddar cheese (we like Vermont white cheddar)
1/4 cup chopped scallion
1/4 cup dry bread crumbs
Parmesan cheese
freshly ground pepper
freshly chopped parsley and thyme leaves
sour cream
Preheat oven to 350 degrees F. Melt butter in microwave. Wash and dry potatoes completely. Cut a thin slice off the "bottom" long sides of the potatoes so they don't roll around on the baking sheet while they cook. Cut vertical slits every 1/6 of an inch, almost to the bottom or the potato, but not all the way through. Place them on a baking sheet. Brush them with some of the melted butter and sprinkle each with a little Lawry's seasoned salt. Bake for 1 and 1/2 hours, basting every 20 minutes or so throughout cooking time using the rest of the melted butter. Combine cheeses, scallion, and dried breadcrumbs. Remove potatoes from oven, and allow them to cool a bit. Set oven to a low broil. Sprinkle the cheese mixture evenly over the potatoes, filling the slits and lightly covering the tops. Grind some fresh pepper over the potatoes. Broil until golden brown, watching them carefully so they don't burn. Garnish with the fresh parsley and thyme and serve with a dollop of sour cream if you wish.
Enjoy!
~Melissa
You may enjoy these related posts: