Print Friendly Version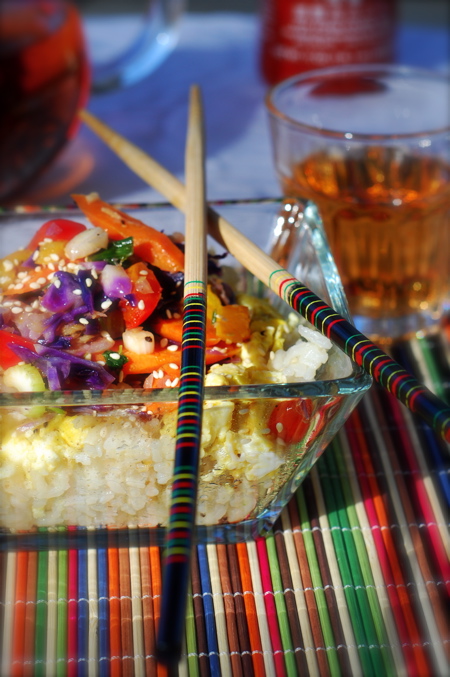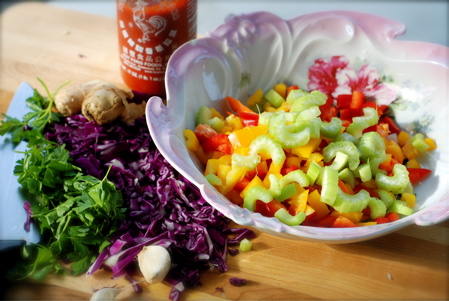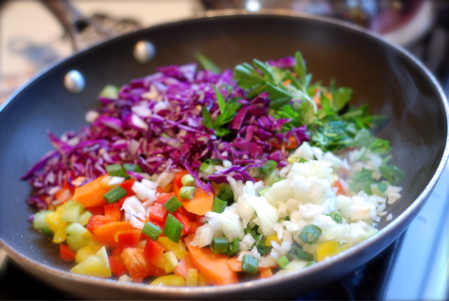 ~ fried rice bowl ~
I had some leftover jasmine rice in the fridge and decided to make a savory fried rice bowl, chock full of fresh veggies, for our breakfast this morning. This is another one of those recipes where you can just use what you have and the ingredients don't have to be exact.
for two servings:
3 eggs
2 cups cooked rice
celery
fresh ginger
carrot
purple cabbage
a variety of different colored bell peppers
scallions
fresh parsley
fresh garlic
olive oil
dark sesame oil
sriracha
soy sauce
toasted sesame seeds
Scramble the eggs in a little olive oil and sesame oil and then add the rice to the skillet, cooking just until heated through. Cover and set aside. In a seperate skillet saute the fresh chopped veggies, grated ginger and minced garlic. Cook until just tender. Place the rice/egg mixture in two bowls, top with veggies, a little soy sauce, and a drizzle of Sriracha if you like spicy. Season to taste. Garnish with fresh parsley and sesame seeds.
Enjoy!
~Melissa
You may enjoy these related posts: