Print Friendly Version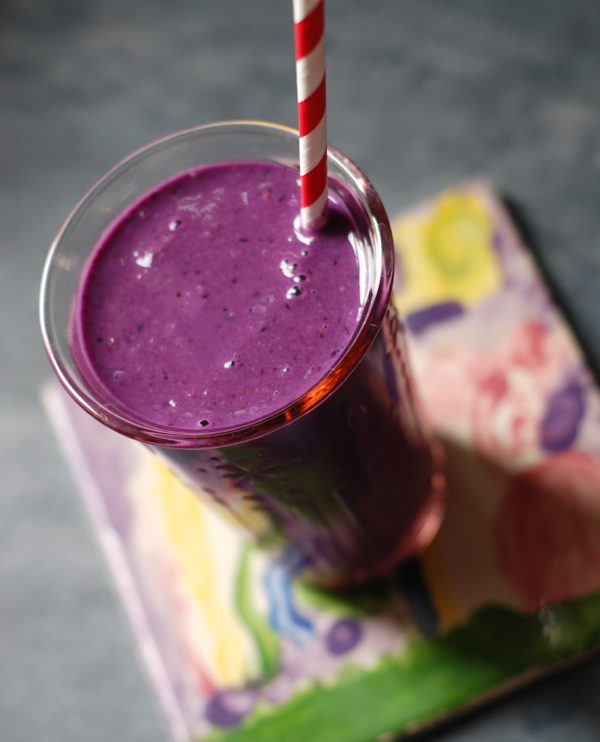 I love days that start out quiet, with a cup of tea and a little classical music streaming from the radio while I make breakfast for me and Jeff. It's grey and frosty looking outside today. Spring is being fickle. Doesn't know if she wants to stay for good…but she does peek out every once in awhile…
I've gotten a lot of emails asking if I'm on a new health kick. LOL…my answer is yes and no. I'm just trying to slowly replace some of my bad habits with good ones, cook with more whole grains and less sugar…cut down on the white flour, white potatoes, white pasta…and cook with quinoa, yams and whole wheat pasta instead…brown rice instead of white… you get the idea. I'll still be posting some decadent recipes on occasion, but I want to make those the exception and not the rule. I'm feeling better already!
Here's a healthy way to get your day started. If you're anything like me, you'll need that extra shot of protein that a protein powder can give you. It makes this fruity breakfast treat more substantial.
makes 2 smoothies:
1 and 1/4 cup pineapple juice
1 ripe banana
1 and 1/2 cups frozen berries (I used blackberries, raspberries & blueberries)
1/2 cup vanilla greek yogurt
3 Tablespoons protein powder
(a little milk to thin out the mixture if needed)
Place everything in blender and mix until smooth and frothy.
Pour into tall glasses…
Enjoy!
~Melissa
You may enjoy these related posts: