Print Friendly Version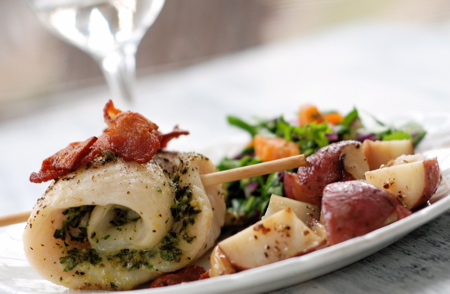 ~ whitefish pesto roulade with roasted lemon vinaigrette ~
This is a lovely summery dish that looks fancy, but is very easy to prepare. You'll probably notice a lot of these types of entrees on my blog. I like fancy without the fuss. You can use your favorite fish for this recipe. Cod, orange roughie, flounder, trout, walleye…this time we used Swai. I like Swai because it's a very mild, flaky whitefish that cooks up perfectly in the oven or on the grill.
The oven roasted lemon vinaigrette that I included with this recipe is wonderful on all types of fish and green salad. You can place the prepared lemons in the oven and hour before you're ready to serve the fish. (See below recipe.)
preheat oven to 400 degrees F.
3 large, boneless, skinless fish fillets
3 Tablespoons fresh basil pesto
1/2 lb. bacon, fried, drained and crumbled
olive oil
salt and pepper
Blot excess moisture from fish fillets. Place them on a large cutting board or platter. Rub one side of each fillet lightly with olive oil. Flip. Spread a Tablespoon of pesto evenly over each fillet. Sprinkle on a little salt and pepper. Roll each fillet tightly and secure with a short bamboo skewer. Sprinkle a little more salt and pepper over the roulades.
Place a lightly oiled cooking rack on a baking sheet. Place roulades on the rack and bake for 20-30 minutes or until completely cooked through and flaky. Plate and top with crumbled bacon and roasted lemon vinaigrette.
~ roasted lemon vinaigrette ~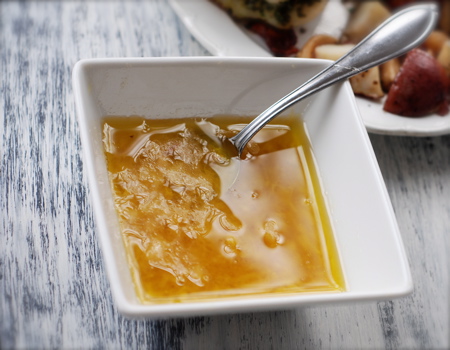 preheat oven to 400 degrees F
Halve 2 or 3 large lemons crosswise and remove the seeds. Place lemons in an oven proof glass baking dish and drizzle with a few teaspoons of olive oil. Place the cut side down and roast until very tender and slightly golden. Allow to cool a bit. Scrape the juice, pulp and pan drippings into a small bowl. Add 2 Tablespoons honey, 1/4 cup extra virgin olive oil, coarse salt and fresh ground pepper, to taste. Drizzle over fish or greens (also yummy on potatoes!)
Enjoy!
~Melissa
You may enjoy these related posts: