Print Friendly Version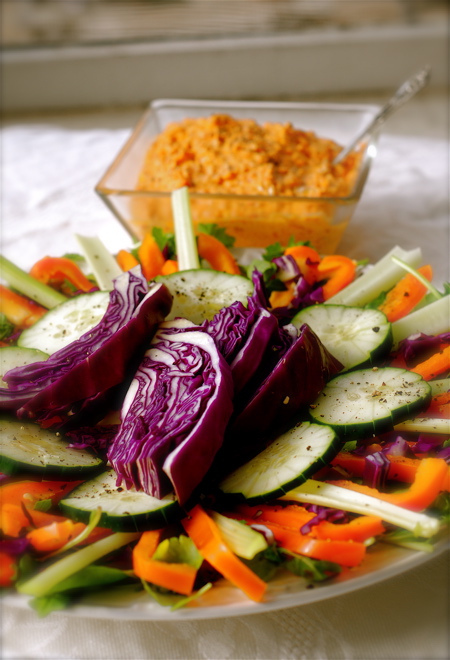 ~ hotsy totsy appetizer dip ~
Who loves spring? I do! I do! We spent this whole past weekend outside. A bike ride in the park, neighborhood strolls, open windows with the lulling echo of church bells and birdsong floating in, grilled brats and steaks and fish, talk of installing the (long awaited) clothesline and watching the landscaper remove our very old back retaining wall and work his landscaping magic so we can plant a ton of lilacs, new climbing roses and Russian sage. Our back yard is going to be a menagerie of gorgeous scents and purple, white, red, fuscia and pink plants. Can't wait! oh! and counting the days until I can plant my herb garden…parsley, lavender, pineapple sage, rosemary, oregano, lemon thyme, cilantro, chocolate mint, and 4 different varieties of rose geranium. What are you planting this year?
I made some of this yummy, healthy, (and just a little bit spicy), veggie/cracker dip to enjoy before one of our al fresco dinners. Took me about 5 minutes once all of the crudite was cut up and arranged just-so.
8 oz. feta cheese
2 Tablespoons extra virgin olive oil
1 Tablespoon regular Sriracha OR Sriracha chili garlic sauce
2-3 large garlic cloves, minced
4 roasted red peppers (canned is fine)
juice of 1/2 lemon or lime
salt and pepper to taste
Cut the feta chunk into pieces and place in the bowl of a food processor along with the roasted red peppers. Saute the minced garlic cloves and hot sauce in the 2 Tablespoons of olive oil, just until fragrant (about 1 minute.) Cool for 10-15 minutes before adding the garlic mixture to the feta. Process until well combined. Add lemon juice, salt and pepper. Process a few seconds longer. Adjust seasoning. Serve with baguette, crispy crackers and a variety of your favorite raw veggies and olives.
Enjoy!
~Melissa
You may enjoy these related posts: