Print Friendly Version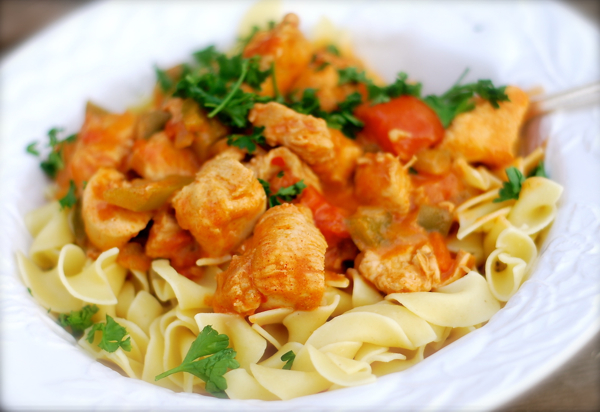 A few days ago I was craving a creamy paprikash, like my Hungarian pork paprikash, without the heavy cream and all the calories, and although this is still served over egg noodles, and includes a minimal amount of cream, I think I found a happy medium. It's light without tasting like "diet" food. And it's so easy to make! The perfect weeknight fare.
~ serves 6 ~
3 Tablespoon extra virgin olive oil
4 large chicken breasts, cubed
1 large onion, chopped
2 green bell peppers (or your favorite color) seeds and stems removed, chopped
4 large cloves garlic, minced
1/4 cup sweet or smoked paprika
sea salt and freshly ground black pepper, to taste
1/4 teaspoon red chili flakes (less or more, to taste)
1/4 teaspoon white pepper (less or more, to taste)
1/4 teaspoon cayenne pepper (less or more, to taste)
1 cup chicken stock
2 (15 oz. cans) fire roasted, petite diced tomatoes + juice from cans
2 Tablespoons sriracha (optional)
1/2 cup plain, Greek yogurt OR light sour cream
1/4 cup heavy whipping cream OR half & half
1/4 cup all purpose flour
fresh parsley, garnish
In a large, heavy Dutch oven, heat oil over medium-high heat. Add the chicken and onion, and cook, stirring frequently, until chicken is just a little bit pink in the middle (approximately 5 minutes.) Stir in bell peppers, garlic, paprika, salt and pepper, red chili flakes, white pepper, cayenne, chicken stock, tomatoes, and Sriracha (if using.) Stir and bring to boil. Turn heat down so liquid is boiling gently.
In a small mixing bowl, whisk the yogurt, cream and flour until smooth. Using a rubber spatula, scrape yogurt mixture into the boiling liquid in the pot. Stir well. Cover pot with lid slightly askew and turn heat down to low. Simmer gently, stirring occasionally, for 20 minutes or until thickened and completely hot all the way through. Serve over egg noodles, Kluski dumpling noodles, mashed potatoes or spaetzle. Garnish with freshly chopped parsley.
Enjoy!
~Melissa
You may enjoy these related posts: