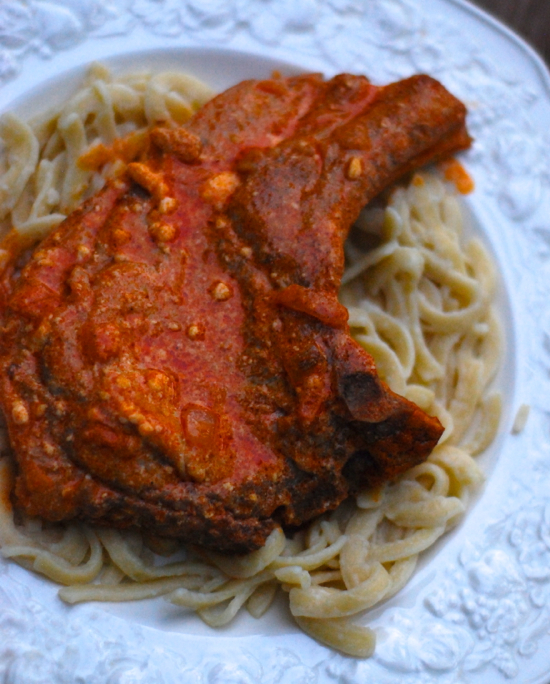 I get antsy this time of year. I don't know if it's because for years and years I went back to school in September, but I think that must have something to do with it. There's always this surge of creativity and not being able to sit still. Funny, I kept saying all summer that when September hit I could finally relax and I find that I'm doing the exact opposite. Lots of writing, drawing, French press coffee and tea drinking, reading, photographing, antiquing and musing going on here. Does Autumn do this to you? I bought some Ticonderoga pencils and a new journal and started writing in that too. No blank page is safe here. Somebody stop me! 🙂
Anyhoo, along with all of this energy is, of course, lots of cooking and baking and soup making. I've been craving hearty dishes like the one pictured above. Hibernatin' food.  What is your favorite comfort food dish?
4 thick, bone-in pork chops
1 and 1/2 Tablespoons olive oil
1 large onion, chopped
1 and 1/2 Tablespoons butter
1/4 cup paprika
1 teaspoon salt
2 cups chicken stock (homemade if you have it)
8 oz. sour cream or plain, whole milk yogurt
1 Tablespoon flour
cajun seasoning
Heat oil in a heavy, deep Dutch oven. Pan fry the chops, about 6 minutes on each side over medium-high heat (or just until juices run clear.) Remove to a plate and cover with aluminum foil to keep them warm. Using the same skillet, place the butter in the oil and pan drippings and scrape bottom of pan with a wooden spoon to release the brown bits. Saute the chopped onion in this mixture until tender, golden and fragrant. (about 8 minutes.) Pour chicken stock in pot along with the paprika and salt. Bring to a gentle boil. Mix flour with sour cream until smooth. Whisk into stock. Place chops back in skillet and simmer until the sauce is thickened and the meat is heated through. Serve over buttered dumpling egg noodles and sprinkle a little cajun seasoning over the top. Wonderful with a simple green salad.
Enjoy!
~Melissa
You may enjoy these related posts: