Print Friendly Version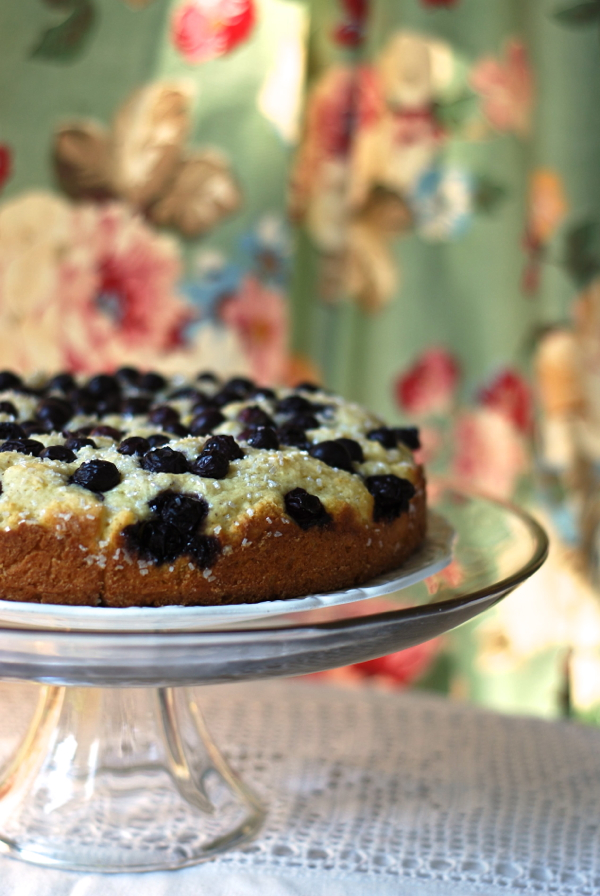 "Where are you going to, my pretty maid?" …. "I'm going a-milking, Sir," she said.  ~Nursery Rhyme

Sometimes I use blackberries in this recipe because we have an abundance of them growing on our three huge blackberry bushes in our back yard.  You could use any berries you wish. Raspberries, blueberries or strawberries would all be wonderful in this recipe. Today I used blueberries leftover from when Gracie made her 4th of July Fruit Pizza.
This tender, sweet cake is essentially like baking a giant scone in a cake pan. We like to eat this with melted butter and sugar sprinkled over the top, but any of the traditional scone toppings (Devonshire Cream, jam, lemon curd…) would work. It's lovely with afternoon tea or served as a coffee cake for breakfast.
Preheat oven to 400 degrees F. Butter and flour a round, springform cake pan.
for the cake ~

Preheat oven to 400 degrees F.
Butter a 9 x 13 cake pan or round, springform pan
2 and 1/2 cups all purpose flour
1/2 cup sugar
1 Tablespoon baking powder
1 Teaspoon nutmeg
2 eggs, beaten
1 cup buttermilk
4 Tablespoons butter, melted
1 teaspoon pure vanilla
zest of one lemon
1 cup fresh berries
3 Tablespoons raw sugar
Combine flour, baking powder, sugar and nutmeg in a big bowl. In a medium bowl, combine beaten eggs, melted butter, buttermilk, lemon zest and vanilla. Mix well. Combine wet and dry ingredients until just incorporated. Don't over-mix or your cake will be tough.
Spoon mixture into prepared cake pan. Spread evenly with the back of a buttered spoon. Sprinkle berries and raw sugar over top. Bake for 30 minutes or until a toothpick or skewer comes out clean when poked in center. Allow to cool before cutting and serving. Makes 8 to 12 pieces.
Enjoy!
~Melissa
You may enjoy these related posts: