Print Friendly Version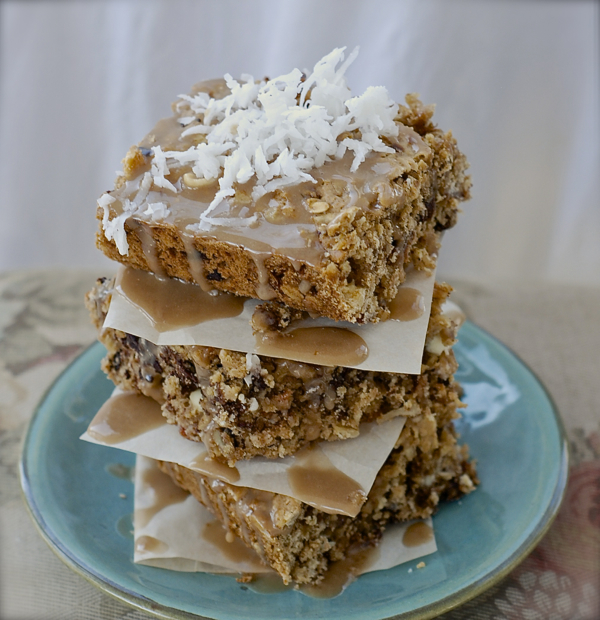 ~ kitchen sink cake bars ~
I was craving a certain treat that I had enjoyed when Jeff and I were vacationing in Chicago. There's this little coffee shop in the Water Tower Place Mall called "Sacred Grounds" that makes these huge cookies called "Kitchen Sink Cookies." I remember they were chock full of chewy, crunchy, chocolaty, "stuff" and on Saturday I decided to create a bar inspired by that cookie.
preheat oven to 350 degrees F.
butter a 9 x 13 glass cake pan
In a large bowl, combine:
1 stick butter, softened
1/2 cup applesauce
3/4 cup firmly packed brown sugar
1/4 cup white sugar
2 eggs
2 teaspoons vanilla
stir until completely combined and smooth
Add:
2 cups all-purpose flour
1 teaspoon baking soda
1 teaspoon ground cinnamon
1 teaspoon ground ginger
1 teaspoon ground nutmeg
3 cups old fashioned cooking oats (uncooked)
Mix well.
Fold in:
1/4 cup sweetened coconut
1 cup chopped dates
1/2 cup coarse chopped pecans
1/2 cup white chocolate chips
1/2 cup dark chocolate chunks
1 cup crispy bacon crumbles, cooled
2 Tablespoons bacon drippings
mix until all ingredients are evenly distributed
Spread the bar batter into the buttered cake pan, mixture will be thick. Bake for 35-40 minutes or until completely set and golden brown.
Cool completely, cut into squares, drizzle with maple glaze (combination of powdered sugar, milk and maple extract.)
Enjoy!
~Melissa
You may enjoy these related posts: