Print Friendly Version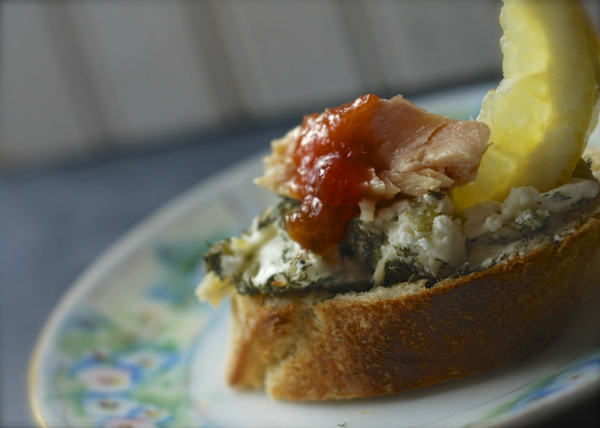 We just returned from seeing the movie Noah, and doing our weekly grocery shopping. The movie was very well done, definitely beautiful, strange and shocking all at once. I can't say I recommend the film, but I will say there was never a dull moment in the 2+ hours while I was watching it. Seen any good/weird movies lately?
Here's a delicious, easy appetizer or light meal that goes together in minutes and is absolutely fantastic with a glass of sauvignon blanc.
1 whole, fresh baguette
8 oz. montrachet goat cheese
2 heaping Tablespoons sweet pickle relish
1 teaspoon lemon zest
1 to 2 Tablespoons fresh or dry dill
1 (3.9 oz) tin smoked trout (we like Trader Joe's)
spicy cocktail sauce
lemon wedges
olive oil
Toast baguette just until warm and a bit crusty. Cut into thick slices.
Mix the montrachet with the pickle relish and lemon zest and form it into a cheese ball. Roll it in the dill to coat the outside. Place the cheese ball on a plate. Slice a lemon into small wedges and place them around the cheese ball.
Open the tin of smoked trout. Transfer to a little bowl.
Open a jar of your favorite spicy cocktail sauce or make some by combining ketchup, horseradish and hot pepper jelly (to taste.)
To serve: Spread slices of baguette with the montrachet. Top with a little smoked trout, a small spoonful of cocktail sauce, a drizzle of olive oil and a squeeze of fresh lemon.
Enjoy!
~Melissa
You may enjoy these related posts: