Print Friendly Version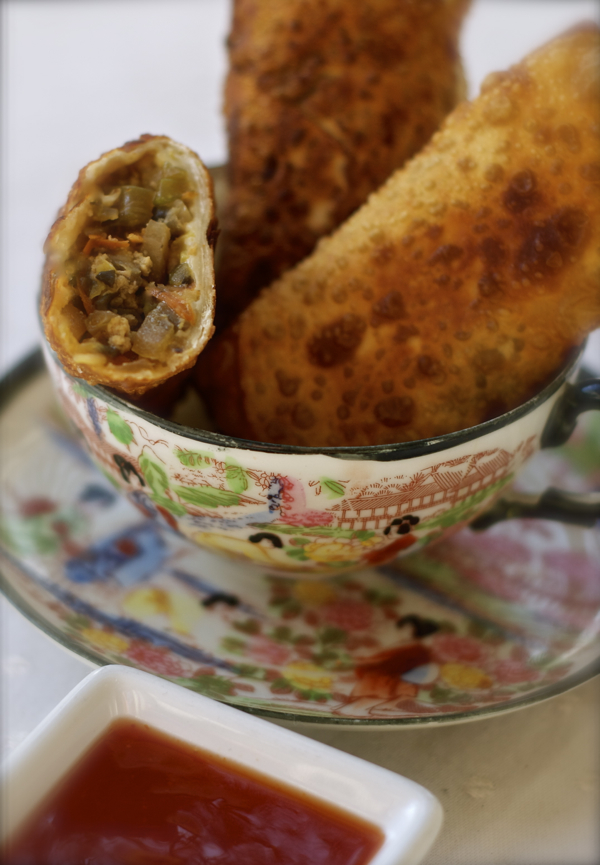 I had the best intentions of posting this yesterday, but the day got away from me so here I am, sharing it today. Feel free to use a pound of your favorite egg roll meat for this recipe. This time I used ground chicken, but I also like shrimp and pork. I included my original recipe for spicy sweet and sour sauce with this post because I think sweet and sour can make or break a good egg roll. Serve these with a little Chinese hot mustard and lite soy sauce too, if you like!
You can fry these in a deep, heavy bottomed skillet if that's all you have, but I like to use an electric wok. That way, all I have to do is set the temperature for 350 degrees F. and I know that the peanut oil is the perfect for frying. Getting the temperature just right while using a skillet can be a bit tricky.
for the egg rolls:
2-3 Tablespoons olive oil
1 lb. ground chicken or pork (or chopped, raw shrimp)
1 (8 oz.) can water chestnuts, drained well and chopped
2 cups chopped mushrooms
1 cup finely shredded cabbage
1 cup finely grated carrot
1 cup finely chopped onion
3/4 cup finely chopped celery
2 large cloves garlic, minced
1 Tablespoon fresh ginger, grated
1/2 teaspoon white pepper
3 Tablespoons lite soy sauce
1 Tablespoon sesame oil
1 Tablespoon cornstarch
15 to 18 eggroll wrappers
1 egg, beaten
peanut oil for frying (approximately 2 cups)
Heat the olive oil in a big skillet over medium-high heat. Once the oil is hot, add the meat of your choice and cook completely. Remove meat to a large mixing bowl. Add a little more oil to the skillet if needed. Place water chestnuts, mushrooms, cabbage, carrot, onion, and celery in pan. Stir fry until tender and translucent (approximately 3 minutes.) Add the garlic and ginger. Cook an additional minute. In a small bowl, mix the lite soy sauce, sesame oil and cornstarch. Add it to the veggie mixture in the pan and stir until thickened. Remove from heat. Place the veggies in the mixing bowl and mix it with the meat so everything is evenly combined.
Work with one egg roll wrapper at a time and keep the remaining wrappers covered with plastic wrap so they don't dry out. Brush an egg roll wrapper with a little of the beaten egg, just along the edges. Potition the wrapper so one of the points is facing you. Place approximately 2 Tablespoons of the egg roll filling just below the center of the wrapper (closest to you.) Fold the points together to form a triangle. Fold in sides, and then roll to form a cylinder. Does that make sense? If not… See THIS POST for a visual.
Repeat with the remainder of the wrappers until you run out of filling.
Heat the peanut oil in wok (or large, deep skillet.) Oil should be approximately 350 degrees for frying. Fry 4 to 5 egg rolls at a time for 2 to three minutes, so they're a deep golden brown. Turn the egg rolls 2 or three times during fry time. Drain on paper towels. Transfer to a foil-lined baking sheet and place in a warm oven until ready to serve.
for the sweet & sour sauce:
1/2 cup rice wine vinegar
1 Tablespoon red wine
1/2 cup ketchup
1/3 cup sugar
1 teaspoon to 1 Tablespoon Sriracha hot sauce
Whisk all ingredients in a mixing bowl using a wire whisk. Transfer to a canning jar and refrigerate until ready to serve.
Enjoy!
~Melissa
You may enjoy these related posts: