Print Friendly Version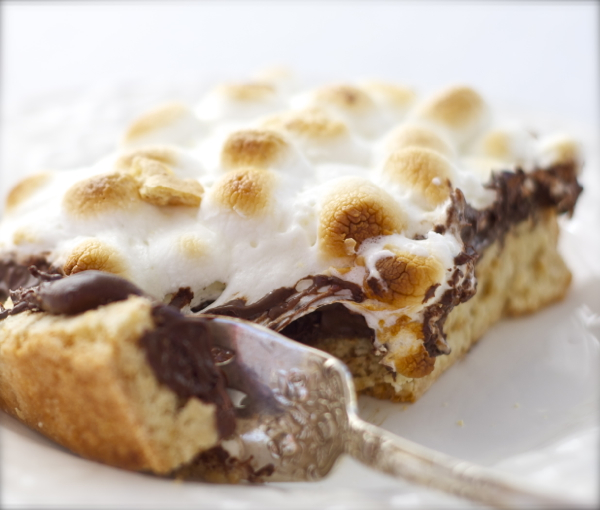 Are you in the mood for s'mores? This easy dessert is great for when it's still too chilly outside to make the classic, campfire treat. It's really chocolaty, ooey gooey and sweet. I had a 1 inch x 1 inch square and that was enough sugar for me. Jeff and Gracie have been happily eating them for their dessert the last few nights. These would be awesome with a cold cup of milk, a good cup of rich, french press coffee or a hearty, black tea like Ceylon or Keemun. Feel free to use prepackaged sugar cookie dough for the crust if you don't want to make it from scratch. I personally don't like using prepackaged dough because most brands are loaded with weird fats and mystery ingredients. But, I do understand that it makes desserts like this one way easier to prepare.
~ preheat oven to 375 degrees F. ~
makes 24 servings
for the graham cracker sugar cookie crust:
2 sticks butter, softened
1/4 teaspoon salt
2 and 1/4 cups sugar
2 large eggs
3 cups all-purpose flour (gluten free AP flour will work here)
1 cup graham cracker crumbs
2 teaspoons pure vanilla extract
Mix all ingredients well, until a uniform dough forms. Press the dough into an even layer in the bottom of an ungreased, 9 x 13 glass baking dish. Bake in preheated oven for 20 to 30 minutes or just until the dough is golden brown along the edges and lightly golden on top.
for the s'mores topping:
3 cups semi-sweet chocolate chips
5 cups mini marshmallows
Remove crust from oven and immediately sprinkle the chocolate chips over the crust. Allow to sit for 5 minutes. Using a rubber spatula, spread the melted chips in an even layer.
Turn oven to the "broil" setting. Sprinkle the marshmallows evenly over the chocolate layer. Transfer pan to the oven and place it 5 to 6 inches from broiler flame for 15 to 30 seconds or just until the marshmallows are a light golden brown. Watch very closely so the marshmallows don't burn. Remove from oven. Cool bars for 10 minutes before cutting into squares and serving.
To store: Cool bars completely. Place in air-tight containers, with waxed paper or cooking parchment between layers. These will keep for up to 5 days, unrefrigerated.
To reheat: Place a single bar on a microwave safe plate and heat for 30 seconds.
Enjoy!
~Melissa
You may enjoy these related posts: