Print Friendly Version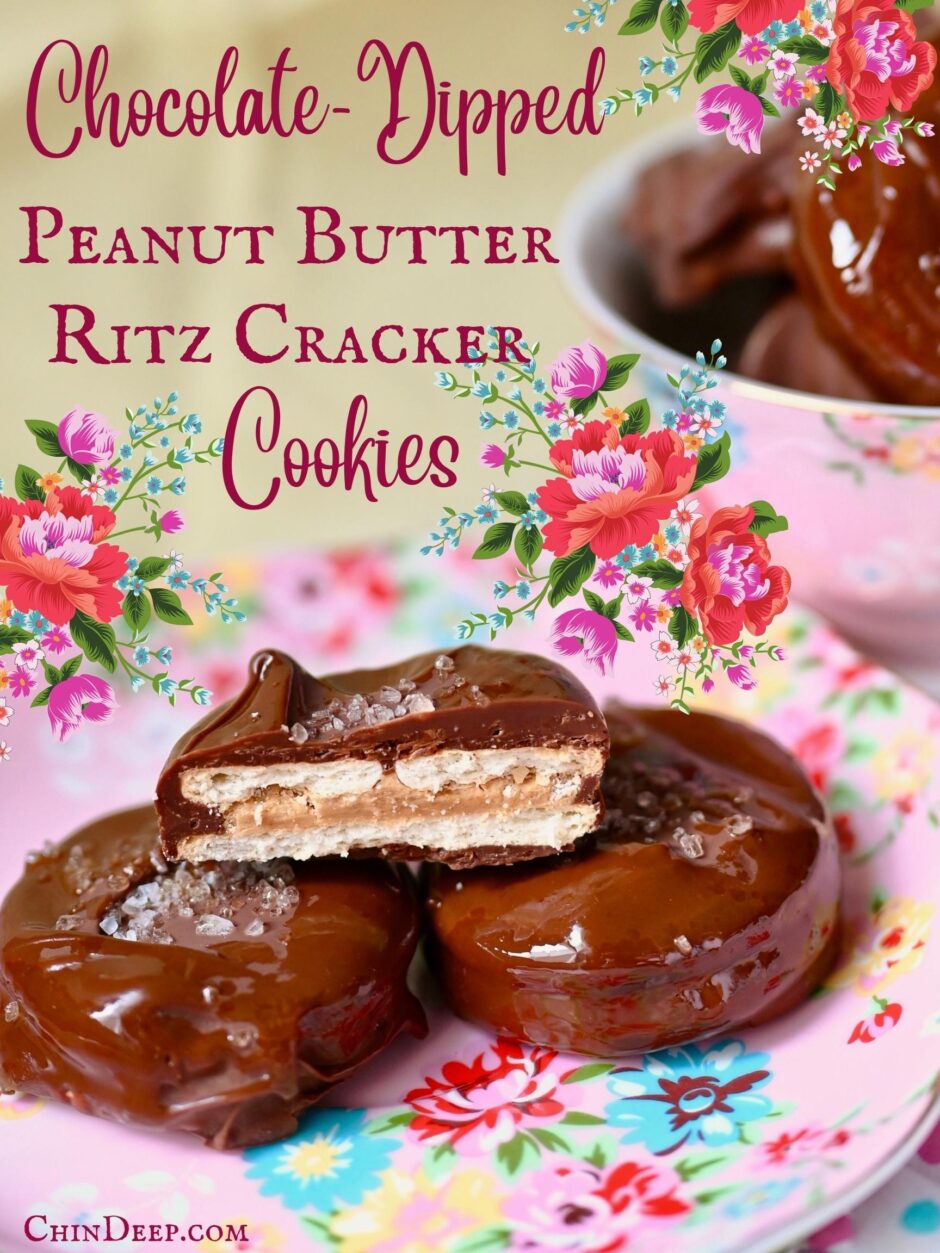 During the holiday season, when I tend to do a ton of baking, I sometimes turn to easy, tried and true recipes that don't require a lot of work. This tends to happen towards the end of the baking season when I start running out of steam. This year, after making all the cookies and quick breads, I realized I hadn't made even one thing with chocolate. What? That wouldn't do. So I decided to make up a big batch of Chocolate-Dipped Peanut Butter Ritz Cracker Cookies! They're so delicious and soooo easy peasy. No baking required! Yay!
All you need are a few basic ingredients that you probably already have in your pantry.
Feel free to decorate these however you choose, but my advice would be to stay away from those big, ball "sprinkles." They are super cute, but are actually tiny jaw breakers and you might chip a tooth. Just thought I'd warn ya. I tried it and wouldn't recommend it. Me and the hubby were enjoying a couple as a dessert, and also so we could taste test them to make sure they're okay because we're humanitarians and do what we have to to make sure we're providing the best recipes possible… (hee hee)… and every time we crunched down on those sprinkles a brief look of mild peril would cross our faces. Hope we don't have to go to the dentist! 🙂
Okay, so now that you've been warned of the possible sprinkle hazard, we can make these cookies.
~ To make 24 (2 dozen) cookies ~
48 Ritz crackers
3/4 cup creamy peanut butter (I used Jif)
3 cups chocolate chips (I used Enjoy Life semi sweet)
coarse sea salt and/or sprinkles
Line a baking sheet with cooking parchment or wax paper. Place 24 crackers on sheet. Spoon approximately 1/2 Tablespoon peanut butter in the center of each cracker, and then place another cracker on top of each to create little cracker sandwiches. Repeat.
Place chocolate chips in a microwave-safe bowl and microwave in 15 second bursts, stirring in between each, just until the chocolate chips are melted and smooth. Don't over heat.
Drop cookies, one at a time, into the melted chocolate and gently roll it around using a fork. Once completely coated, transfer back to prepared baking sheet. Sprinkle a little coarse sea salt or sprinkles over top. Let rest, at room temperature, until the chocolate is completely set and hard. Speed up this process by placing the sheet of cookies in refrigerator.
These cookies will keep, in a air-tight container at room temperature, for a week.
Ways to change up these cookies: Instead of peanut butter, or along with peanut butter, place a dab of marshmallow fluff or jam in between the crackers. Other fun fillings are Nutella and Biscoff. You could use white chocolate chips in place of the regular chocolate if you wish. I've made these with Nutella in the center and then put finely crushed candy canes on top. Perfect for Christmas!
Enjoy!
~Melissa
You may enjoy these related posts: