Print Friendly Version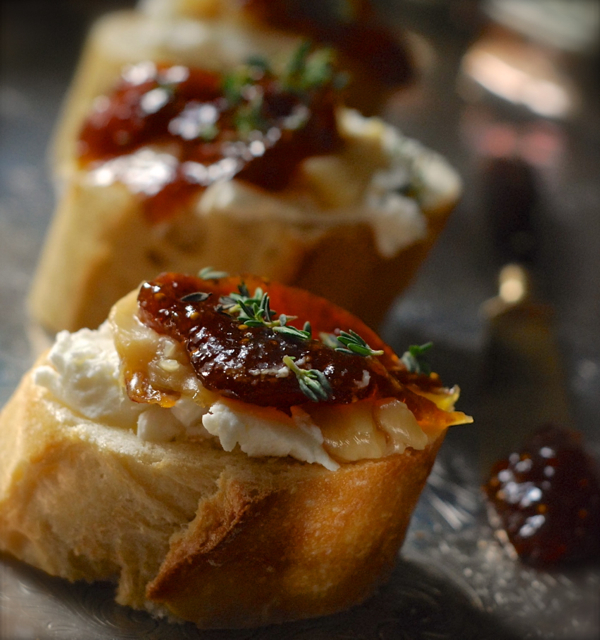 My friend Kristina gave me a recipe for "boyfriend chicken" a few weeks back. She told me it's called that because it's her "go-to" recipe for impressing new boyfriends. I think that's adorable. Between this, and all of the recipes entitled "boyfriend bait"  floating around on Pinterest these days, I decided to come up with my own.
This is totally what I'd make to impress a new beau, LOL… or, in my case, my hubby of 18 years. We enjoyed this with a glass of delicious Cabernet. It's the perfect Friday night or weekend treat when you want to let loose a little and indulge.
serves 6 (3 bruchetta each)
1 long, fresh, crusty baguette
6 to 8 oz. goat cheese (montrachet)
1 large head oven roasted garlic, cloves removed from skins
fig jam or mango chutney
sea salt and freshly ground pepper
fresh thyme leaves for garnish
Slice bread and toast or grill (if you wish.) Top with goat cheese, then some of the garlic cloves (mooshed), a little fig jam or chutney, a little sprinkle of sea salt, freshly ground pepper and thyme leaves.
Enjoy!
~Melissa
You may enjoy these related posts: